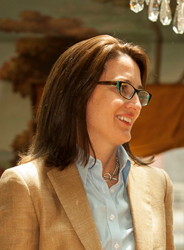 Transforming the Westport Weston YMCA's utilitarian gym into a celebratory venue for this event was an honor and a creative challenge.
Weston, CT (PRWEB) December 15, 2014
A much-needed new YMCA facility for the towns of Westport and Weston, CT recently celebrated its opening with a grand gala and auction on October 11, 2014. Active throughout the building's construction period, Elizabeth Brosnan Hourihan and her interior design firm, EBH Interiors, worked for ten months heading the planning, organization, and design of the décor for the formal kick-off event, "Celebrating What Matters."
The 54,000 square-foot Westport Weston Family YMCA at the Bedford Family Center is designed by renowned architect Robert A. M. Stern. The opening party, which featured dinner, music, a live auction, and silent auction, was completely sold out, and the event raised over $60,000 for the YMCA's Annual Campaign. "The gala was an evening to … celebrate our continuing cause of strengthening our community. After so many years of hard work, it was quite a party," Rob Reeves, the former CEO of Family Y, told The Weston Forum. Paul T. Bernetsky, the Y's chief development officer, added, "Elizabeth Brosnan Hourihan deserves a special 'thank you' for her efforts. We are indebted to Elizabeth for her dedication to making this such a memorable gala."
Working with her assistant Electra Sattelberger and members of the Gala committee, Hourihan, owner/principal of the Weston firm EBH Interiors and a YMCA board member, researched, coordinated, planned, and orchestrated the transformation of the building's gymnasium into several vibrant spaces: a dramatically lit auction gallery, two bars, two canopied lounges, and a dining area. She also helped secure the services of lighting company Vivid Events, furniture company Lillian August and other local merchants in Westport and Weston, and an auctioneer from Christie's. The furnishings Hourihan borrowed from Lillian August to realize her design were an eclectic combination of vintage and warm modern styles. Some of the most outstanding pieces were a bright yellow bar made of reclaimed wood, a mahogany bar, and a sleek black leather sectional sofa.
"Transforming the Y's utilitarian gym into a celebratory venue for this event was an honor and a creative challenge," says Hourihan. "Although a gala is often associated with being a formal event, I wanted to ensure that the sprit of the YMCA would be reflected, and so I created a "casual chic" environment. My design plans included using autumnal colors in rugs and flowers throughout the room, consistent materials and textures to tie everything together, and white linens and window treatments to blend in and help the unique pieces of the décor really stand out."
About Elizabeth Brosnan Hourihan Interiors
http://www.ebhinteriors.com
EBH Interiors creates elegant spaces that respect the integrity of tradition yet reflect the way we live today. Integrating architecture, interior design, and works of art from around the world, Elizabeth is at home with every style from the classical to the contemporary. Her designs offer an understated use of color, texture, and materials, plus a flair for the unique piece that sets off a room and becomes a treasured possession. Elizabeth's interiors have appeared in Architectural Digest, The New York Times Magazine, Veranda, Traditional Home, Design New England, and New England Home.
About the Westport Weston Family YMCA
http://www.westporty.org
Founded in 1923, the Westport Weston Family Y has enriched the entire community by developing and nurturing the potential of its youth, promoting healthy living, and fostering a sense of social responsibility. A volunteer-governed charitable organization, our Family Y is part of a worldwide movement of YMCAs serving over 30 million people in 130 countries. Together the YMCAs in this country make up the largest non-profit community service organization in America.
The Family YMCA endeavors to serve all. Membership and participation at the Family Y is open to everyone, regardless of race or ethnic background, religious preference or ability to pay or capacity to play. Much more than a collection of programs and activities – more than a gymnasium and a swimming pool - the Y benefits everybody in the community, whether they use the facility or not, by keeping children and teens active and involved in socially productive activities.