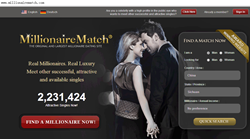 Los Angeles California (PRWEB) December 12, 2014
According to the data on MillionaireMatch.com on Dec. 10, the three most common occupations of its male members are: Self Employed/Entrepreneur (18.56%), Executive/Management (10.64%) and Technical/Science/Engineering (9.78%).
MillionaireMatch.com, the largest millionaire dating site for connecting and dating successful and rich people, provides 25 categories for its members to choose their occupations. Two among them are "Other" and "Please ask me". Apart from these two categories, aforementioned occupations are listed as the top 3.
According to the top 10 highest-paying jobs in the U.S. as published in 2012 by the U.S. Department of Labor, Chief Executive Officers are listed in the top 3. Engineers and executives are all listed in the top 10.
The results does not surprise people since hard work and great effort always bring huge success, and therefore a lot of money. Money is always in hands of the people who have strong will, defined life goals and flawless work ethic. But still, the question arises: How is it possible that people who daily manage and organize thousands of employees, or those who make the most complicated things simple and easy, often fail to organize the most important thing: their love life?
Some of the most common reasons may be a chronic lack of time, fatigue and constant workload. Successful people are dedicated to its career goals and always stay busy with lots of work. They have little time to date in real life.
MillionaireMatch.com is a perfect place where successful and wealthy people can find their soul mate. Every quality is welcomed here. But for people who are looking for sugar daddy-type relationship, then Millionairematch.com is not for them.
About MillionaireMatch.com
MillionaireMatch.com is a millionaire dating site which has brought together successful singles for over 13 years. There are millions of people coming here every day including CEOs, pro athletes, doctors, lawyers, investors, entrepreneurs, beauty queens, fitness models and Hollywood celebrities, just to name a few. MillionaireMatch.com was voted as "Best of the Web" by Forbes.com.