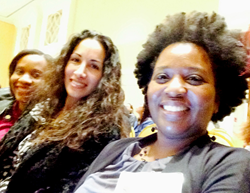 (PRWEB) December 16, 2014
The NBCC Foundation facilitated an important panel discussion with the cohort of doctoral counseling students who were awarded the 2014 NBCC Minority Fellowship Program (MFP) fellowship. The discussion was a preconference panel session held prior to the 2014 National Institute on Minority Health and Health Disparities (NIMHD) Grantees' Conference, which 19 of the 2014 MFP fellows and several of the 2013 MFP fellows attended.
The discussion panel was moderated by Shahnaz Khawaja, NBCC Foundation senior program officer, and included panelists David Bergman, NBCC vice president of legal and external affairs/chief legal officer, and Dr. Sandra I. Lopez-Baez, NBCC MFP Advisory Council Chair. In keeping with the NIMHD conference theme, "Transdisciplinary Collaborations: Evolving Dimensions of U.S. and Global Health Equity," the discussion panel explored the role the counseling profession can play in bringing about mental health equity and eliminating mental health disparities in the United States.
The title of the discussion was "The Impact of Policy Issues on Professional Practice in Counseling—A Discussion Panel on Clinical Practice and Policy Perspectives." Several key topics were covered, including (a) how government programs and third-party payors influence healthcare policy, (b) how counselors fit in to the current health care delivery system, and (c) how counselors can influence the future of health care delivery. Fellows were able to collaborate with each other and the panelists and will be able to integrate the knowledge from the session into their research and practice.
The Foundation is also pleased to announce that several MFP Fellows conducted oral or poster presentations on topics related to minority health and health disparities at the NIMHD conference. Two 2013 fellows, Tanya Johnson and Ajita Robinson, presented on "Teaching Multicultural Competence to Minority Counseling Students" and "Promotive Factors of Well-Being Among Trauma-Exposed Urban African-American Youth," respectively. The fellows making poster presentations included Shanita Brown, a 2014 fellow whose topic was "Racial Microaggressions and Coping Mechanisms Among African-American Women"; Carlos Golfetto, a 2014 fellow whose topic was "Reaching High-Risk and Vulnerable Populations through Psycho-Education: A Call for Helping Hispanic Victims and Survivors of Sexual Abuse"; and J. Richelle Joe, a 2013 fellow whose topic was "Moral Development, HIV/AIDS Knowledge, and Attitudes Toward HIV/AIDS."
###
About the NBCC Foundation
The NBCC Foundation is the philanthropic affiliate of the National Board for Certified Counselors (NBCC), based in Greensboro, North Carolina. NBCC is the nation's premier professional certification board devoted to credentialing counselors who meet standards for the general and specialty practices of professional counseling. Currently, there are more than 55,000 National Certified Counselors (NCCs) in the United States and more than 50 countries. The Foundation's mission is to leverage the power of counseling by strategically focusing resources for positive change. The Foundation is contracted by NBCC to administer the MFP grant, which is funded by the Substance Abuse and Mental Health Services Administration (SAMHSA). Learn more about the Foundation and its programs at http://www.nbccf.org.