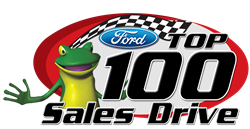 We have a great thing going on here.
Preston, MD (PRWEB) December 12, 2014
Something special happens outside the town of Preston, MD (population of 813 est.) during the month of December. The locals from Maryland and Delaware see it every year and count on being a part of it. So what exactly is this special happening that causes so much commotion? It is Preston Ford, one of the oldest Ford dealerships in Maryland.
Preston Ford of Preston Automotive Group does the impossible during December. Labeled as their Top 100 Sales Drive, the Ford dealership strives to become a top 100 Ford dealership in the Nation. There are roughly 3400 Ford dealers in the Nation and fro the past few years Preston Ford has been among the top of them. Lead by David Wilson Jr., Vice President of Preston Automotive Group, the store focuses on a large inventory, lowest pricing, transparency, and giving each and every customer a great buying experience.
Currently the Ford dealership has the largest Ford inventory of new vehicles on the East Coast of the U.S.. With roughly 1000 new Ford vehicles, 375 of which are new Ford F-150 s, customers from Delaware, Maryland, Pennsylvania, and Virginia all travel to the destination dealer to find the exact Ford model they are in search of. Not to mention that their advertising reaches far and wide to let Ford buyers their new vehicle awaits.
"We have a great thing going on here," says David Wilson Jr., "This month alone we have sold vehicles to customers in Florida and Arizona." When asked what draws in these long distance customers, "The Internet" was the answer. Internet advertising in the past decade has really brought changes to how people shop online. Preston Ford has been quick to adapt to these changes.
Top sellers for the Maryland Ford dealer are the Ford F-series trucks, Ford Fusion, and the Ford Explorer.
About Preston Automotive Group
Preston Automotive Group serves the Delaware, Maryland, Virginia and Pennsylvania areas with Ford, Lincoln, Mazda, Hyundai, and Nissan brands. The auto group carries the largest selection of new and used cars and trucks. Additionally, the dealership services all makes and models, both imported and domestic cars with ASE certified and factory trained technicians.