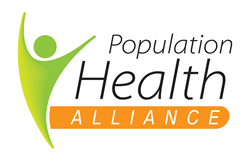 PHA has long been an advocate for incorporating academic rigor and research into the evolving population health industry
(PRWEB) December 12, 2014
The Population Health Alliance (PHA), a leading non-profit organization dedicated to advancing the principles of population health, and the Jefferson School of Population Health (JSPH), the first designated school of population health in the country, announced today that they have entered into a formal affiliation agreement, allowing the two organizations to work together to build capacity for education and advocacy.
According to Fred Goldstein, executive director of PHA, the agreement makes it possible for the organizations to work together on shared priorities around population health advocacy and education, including:
Developing, marketing and presenting professional programs, conferences and webinars on population health, policy, benefit design, governance and related health care topics
Preparing and submitting joint grant applications and other engagements
"PHA has long been an advocate for incorporating academic rigor and research into the evolving population health industry," explained Goldstein. "The collaboration with renowned JSPH will make that possible in a more robust way for our growing alliance membership."
The affiliation announcement took place during the annual 2014 PHA Forum in Scottsdale, Ariz., organized by PHA and attended by hundreds of employers, health plan executives, population health management companies, disease management experts, and medical directors. Dr. Nash was one of the conference's keynote speakers.
"JSPH has supported the important work of PHA for many years. This type of collaboration, between academia and industry, is a key component to improving population health outcomes across the United States," said Dr. David Nash, dean of the Jefferson School of Population Health. "The job is too big to take on alone, and we are pleased to have a capable and willing partner in PHA."
About the Population Health Alliance 
The Population Health Alliance (PHA) is a global trade association of the population health industry. The organization has nearly 100 members representing stakeholders from across the health care delivery system that seek to improve health outcomes, optimize medical and administrative spend, and drive affordability. Through its robust advocacy, research and education initiatives, the PHA offers members a forum to advance shared learning and applied research to further innovation and establish best practices in the population health field.
Visit http://www.populationhealthalliance.org to learn more.
About the Jefferson School of Population Health
The Jefferson School of Population Health (JSPH), established in 2008, is one of six schools and colleges that constitute Thomas Jefferson University, a leading academic health center founded in Philadelphia in 1824 as Jefferson Medical College. As the first designated School of Population Health in the country, JSPH is dedicated to the exploration of policies and forces that determine the health and quality of life of populations, locally, nationally, and globally. Its mission is to prepare leaders with global vision to develop, implement, and evaluate health policies and systems that improve the health of populations and thereby enhance the quality of life. To learn more: http://www.jefferson.edu/university/population_health.html