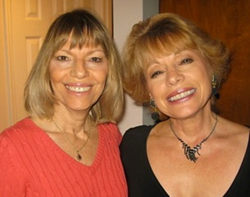 No hype, no games. Just sound, sensible relationship advice that works.
West Palm Beach, FL (PRWEB) December 17, 2014
Dating & Relationship Mentors Rosalind Sedacca, CCT and Amy Sherman, LMHC have are determined to disprove the self-defeating myths single women too often tell themselves. These include: It's too late for me … all the good men are already taken … I'm just too old, too heavy or too set in my ways to find lasting love.
To achieve their goal, Sedacca and Sherman have created The Inner Circle Relationships Coaching Group for women, which meets via telephone twice a month, to replace sabotaging beliefs with more empowering and supportive relationship truths.
Too many women believe and are telling themselves:

There's no one worthwhile out there
I'm better off alone
No one will be attracted to me the way I look
Single men my age are either exploitive or manipulative
Most guys are looking for younger partners
Dating's a drag. Why bother?
The truth is, women need a healthy relationship mind-set to attract a healthy relationship. That means having high self-esteem, confidence and the expectation that their ideal partner is out there looking for them.
Sherman is a Dating and Relationship Coach and Licensed Mental Health Counselor who teamed with Sedacca, also a Dating and Relationship Coach, to co-author 99 Things Women Wish They Knew Before Dating After 40, 50 and Yes, 60! They also collaborated on their DatingRescue eCourse for women of all ages and their Create Your Ideal Relationship Kit for women over forty.
The Inner Circle Relationship Coaching Circle is their newest venture for women in their thirties through their sixties. The focus is helping women boost their sense of self-worth … release negative patterns … and discover proven steps for attracting the healthy, fulfilling, true love relationship they've always desired and deserve.
The ongoing telephone support group connects twice a month for a 75-minute Coaching call with Sedacca and Sherman. Members will get advice, insights, strategies and exercises to shift their relationship consciousness to new levels of awareness and self-acceptance. Both Coaches will answer personal questions and provide Action Tips. There is also a Private Group Forum for off-call interactivity among members.
In addition, those who join the group before January 15, 2015 will get a complimentary Bonus Guidebook: The Best Relationship Advice You'll Ever Need, written by Sherman and Sedacca.
The Inner Circle Relationship Coaching Group meets via telephone two Tuesdays a month at 8:00 pm ET. Every call will be recorded and sent to members, so they never miss a session, exercise or the suggestions for the week.
Members pay by the month – with no binding contracts or commitments.
"We're out to transform your life in the best possible way," says Sedacca. "We'll help you be in the right places to meet quality partners. We'll get you through your dating challenges. And we'll support you in deciding whether you've found a real keeper! No hype, no games. Just sound, sensible relationship advice that works."
Members who join now at the introductory price of $25 a month, will lock in that price as long as they desire to participate, even if the monthly price should go up in the future.
As an additional Bonus, single women who sign up for January membership by December 22 are invited to participate in the Dec. 23 call as a no-cost gift. Following that, they will enjoy their two January membership calls – giving them a total of three coaching calls for the price of two.
"We invite you to continue as long as you're getting real value," adds Sherman. "If you don't get considerably more useful advice than you ever expected from the group calls, feel free to discontinue. It's that simple. And we're that confident in the program."
Both Coaches believe single women who learn to date smarter can make 2015 the year that transforms their love life. But it takes a commitment to making a shift in what they're thinking, doing and expecting. The Inner Circle Relationship Coaching Group is a risk-free way to try something new and experience more rewarding results. And the guidance is just a phone call away.
To register for The Inner Circle Relationship Coaching Group in January for just $25.00 (and be invited to join the Dec. 23rd call at no cost), visit: http://womendatingafter40.wordpress.com/inner-circle-coaching-group.