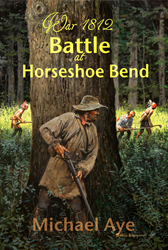 Pasadena, CA (PRWEB) December 15, 2014
It's August 1813. The Red Sticks, under the encouragement of England and Spain, have attacked peaceful Fort Mims. Hundreds are killed: men, women, children, and babies. Only eighteen people escape. Secretary of War John Armstrong calls for an all-out war against the Red Stick nation. Major General Andrew Jackson has been placed in overall command of the forces sent to end the Indian problem. But President Madison knows Jackson can be a loose cannon. He needs someone he can trust to be a controlling force: Jonah Lee.
Fresh from the northwest campaign, Jonah and his adopted brother Moses have just gotten home to Georgia when the dispatch arrives. Jonah is morose and grieving over the loss of his love to an Indian raiding party, so Moses feels this new assignment may be a balm for him. From the Battle at Horseshoe Bend to the burning of Washington, D.C., Michael Aye's "Battle at Horseshoe Bend" is a fictionalized account of the events of this decisive war. Released today in print and Kindle format, the book will become available in additional formats (Kobo, Apple) over the course of the next few days.
Aye is the author of The Fighting Anthonys maritime fiction series. "Horseshoe Bend" is the second novel in the War 1812 series, after "Remember the Raisin." Historical Naval Fiction says of "Raisin": "The book appeared to be well researched and the plot flowed well as it linked the various battles together. As you would expect from the author of a naval fiction series the Lakes action was well written and I look forward to reading more of the wider conflict from the perspective of Jonah Lee. Recommended."
The third and final volume of the War 1812 trilogy will focus on the Battle of New Orleans. Aye will also release the seventh in the Fighting Anthonys series, "HMS Leopard," in 2015. A trilogy about last great era of piracy will follow the conclusion of the first two series. The first title in this new series will be "Pyrate, The Rise of Cooper Cain." Book One will take place in 1810. The Publisher will release the series in Hardback and ebook simultaneously with the paperback version to follow the next year.
Boson Books was founded in 1996 as one of the first e-publishers on the Web. Acquired in 2012 by Bitingduck Press, Boson remains a full-service publisher with a particular interest in fiction by and for scientists, narrative non-fiction, and fiction for teen boys. Submissions are open for the 2016 catalog; guidelines are available on the publisher website.