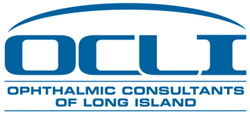 This is really about our patients and providing exceptional care from a better location, for better vision and a better quality of life. -Tom Burke, OCLI CEO
(PRWEB) December 16, 2014
Ophthalmic Consultants of Long Island, a comprehensive eye care and aesthetics practice with 11 locations across the island has moved their Manhasset office to a larger facility in order to accommodate a rapidly growing patient base. The new location is at 1355 Northern Boulevard, Suite 300 and is less than a mile from the previous location, but will allow for expanded options of treatment. The newly renovated, landmark building is within walking distance of the LIRR Manhasset Station.
"We know we just moved down the road, but with our new location, we will be able to treat more patients, expand to offer more treatments, and provide better overall care which is our goal every day here at Ophthalmic Consultants of Long Island," said Dr. Robert Broderick, physician partner and Manhasset resident. "We're improving by moving is what we like to say. Come see the difference."
The new location is outfitted with state-of-the-art technology and a world renowned team of board-certified ophthalmologists; Dr. Robert Broderick, Dr. Daniel Garibaldi, Dr. Marguerite McDonald, and Dr. Valerie Trubnik. Services that will be offered include laser cataract surgery for Long Island residents as well as glaucoma specialization, cornea treatment, cosmetic and reconstructive oculoplastic surgery, LASIK, Dry Eye management and comprehensive ophthalmology.
"We are ecstatic to inform our patients and the community about our newly renovated office space in Manhasset. And, the best part is the free parking along George Street right behind the building," said OCLI CEO Tom Burke. "This is really about our patients and providing exceptional care from a better location, for better vision and a better quality of life."
About Ophthalmic Consultants of Long Island
OCLI, one of the largest ophthalmology practices in the nation, consists of 33 eye doctors and specialists representing most subspecialties of ophthalmology and optometry in 11 locations throughout Long Island; in Rockville Centre, Lynbrook, Valley Stream, Manhasset, East Meadow, Port Jefferson, Mineola, East Setauket, Garden City, Massapequa, and Plainview. OCLI also has a research department that is involved in FDA studies to improve the treatment and diagnosing of ophthalmic diseases. For more information, please call 1-866-SEE-OCLI (1-866-733-6254) or visit http://www.ocli.net.