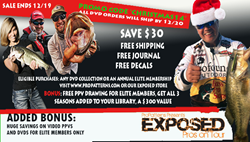 I focus on providing members with reliable and trustworthy information available nowhere else.
Yankton, South Dakota (PRWEB) December 16, 2014
According to its national website, "1 Million Cups (1MC) is a simple way to engage entrepreneurs in communities around the world. Each week, the 1MC program offers two local entrepreneurs an opportunity to present their startups to a diverse audience of mentors, advisors, and entrepreneurs."
1 Millions Cups events take place Wednesday mornings at coffee shops, business pavilions, and media centers in cities across the country.
Following the 1 Million Cup format, Ekroth gave a six-minute presentation about his work with ProPatterns, Inc. and its importance to the community before opening the dais for questions.
During his six-minute presentation, Ekroth told the audience how a company and multimedia website dedicated to the sport of fishing evolved out of several other business ventures. Before launching ProPatterns, Ekroth explained, he launched three other tech-based businesses, Omnitech, Inc., a computer programming company; Bulldog Media Group, Inc. (formerly CreditSoup, Inc.) a company specializing in online marketing solutions; and Dataware Green, LLC, a data communications and warehouse service. All these businesses began in the first home in which he lived in Yankton. A competitive angler in his free time, Ekroth would also tour the bass circuit and document his experiences with fishing journals. A tool used by many professional anglers, fishing journals allow pros to accurately record and study patterns and conditions on the water to gain a competitive edge.
According to Ekroth, "In a small 450 square foot house, all of those concepts evolved into four separate companies today employing over 60 people."
Since its inception, ProPatterns has grown as a popular hub for fishing enthusiasts, as well as many of the top competitive anglers in the world. ProPatterns not only hosts an online journal, where anglers are able to document their experiences, as well as share and interact with other anglers, but also offers fun competition for members including the annual fantasy fishing competition. In addition to these features, ProPatterns also hosts the online fishing video series Exposed, now going into its fourth season, each episode featuring a top name in the sport. Different than other fishing shows, Exposed goes behind the scenes with anglers as they study and break down waters on practice days leading up to Elite tournaments.
When asked what made him and his company ProPatterns unique, Ekroth explained Exposed to his 1 Million Cups audience: "The video series is a true reality show with the best in the industry. Exposed offers a subscription-based service, most of my competition online makes income off of advertising with banners, I elect not to bombard ProPatterns members with advertising. I focus on providing members with reliable and trustworthy information available nowhere else. It's a trust factor and relationship that takes time to build."
As 2014 comes to a close, ProPatterns readies to launch Season 4 of Exposed, but also offers a Christmas special. When using the purchase code 'CHRISTMAS14' at the ProPatterns store, shoppers will automatically receive $30 worth of FREE merchandise and savings on annual memberships or DVD collection purchases. DVDs purchased by December 19th should arrive just in time for Christmas.
Those receiving a gift membership will not only have access to all new Season 4 Exposed premiers starting in January, but also all of the site enhancements at http://www.ProPatterns.com. Additional member services include access to other member journals, a fantasy fishing competition with a grand prize hunting expedition with the pros, and deep discounts on DVD collections.
More About ProPatterns, Inc. and Exposed:
ProPatterns, Inc. is a leader of angling education by sharing professional fishing tips, industry information and member services online. In addition, ProPatterns offers prize filled competitions, sharing of information among peers, and connections to industry professionals and media through means available nowhere else.
Information is gathered from various sources and disseminated with members in a variety of ways. The Exposed video series, for example, gains all of its integrity from an alignment with the biggest names in the bass fishing industry including professionals who fish with BASS, FLW, and PAA. Cooperation from the anglers and their willingness to share is the catalyst for the growth of this series.