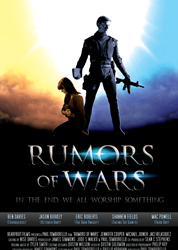 Atlanta, GA (PRWEB) December 17, 2014
The AMTC SHINE Conference is excited to welcome back 11 guest stars: leading actors, models, singers and dancers who have chosen to be a light for Christ in the entertainment industry. The SHINE Guest Star lineup includes the following performers: Ben Davies, LaRecia Hines, Colin Huntley, Keta, TyAlaxandar, Alannah Bruce, Beth Spangler, James Toller, Nicole Smolen, Abbie Cobb and Mark Daugherty.
The SHINE Winter 2015 Conference will host over 60 VIP scouts from around the country, along with over 500 AMTC-trained actors, models, singers, dancers and comedians. The 11 successful AMTC graduates are returning to their roots for six days of fun, fellowship and encouragement at the Gaylord Palms Resort in Orlando. Performers can look forward to seeing Guest Stars throughout the week at Guest Star panels, seminars, and autograph signings.
In 2008, Ben Davies attended AMTC's SHINE Conference, winning awards and signing with Alan Mills in LA, Joy Pervis Talent, and continued to be represented by his mother agent, Advantage Talent Agency. Courageous (2011) was Ben's first co-starring role in a feature film. He finished his last exam and headed to the movie set. The next summer, Ben filmed New Hope and won "Best Supporting Actor" at the Kingdomwood Film Festival. He recently played the lead role of Shaw in the feature film Rumors of Wars. He gives advice to fellow SHINE performers: "Take it in. There is no other experience I know of where there is true competition and pressure going side by side with hope and encouragement," he says.
LaRecia Hines is signed with Major Model Management, one of the top modeling agencies in the world. Since SHINE Winter 2010, she has been featured in many national print advertisements for clients like Tommy Hilfiger and Laura Siegel and in various publications such as Elle and Vogue. LaRecia remains a much buzzed about model and has even branched out into television, appearing in national segments that include Good Morning America, E TV and Oxygen TV. She worked NYC Fashion Week in both 2012 and 2013, where she walked for designers around the world. Most recently, LaRecia was a featured model in the Mercedes Benz Cape Town Fashion Week. 
Alannah Bruce filmed her first National speaking commercial at age 8 and has been in over 35 Commercials, Industrials and Print campaigns with clients such as Gaylord Hotels, Zaxby's, Chuck E Cheese, Hershey's, Academy Sports and Hasbro. Alannah's biggest break came April of 2014 when she was cast in an upcoming PureFlix film. Her featured role plays Ruby, Eva La Rue (CSI Miami) James Denton's (Desperate Housewives) daughter in the soon to be released movie Dancer and the Dame starring Billy Gardell (Mike and Molly). The movie also features Mike Starr (Goodfellas), Quinton Aaron (Blindside), Leonard Roberts (Drumline), Michael Budalucco (The Practice).
AMTC believes that God is raising up an army of performers to "Go and make disciples" in His entertainment industry. With success in the industry being about "What you know" and "Who you know," AMTC equips performers with the knowledge of how the industry works and where its performers fit in, while connecting them with industry professionals that, if the Lord wills, can create larger opportunities.
Actors, Models and Talent for Christ is a 501c3 non-profit talent development ministry. Welcoming performers ranging from beginner to professional, ages four and up, the organization exists as a movement of performers and professionals who feel God's calling to the field of entertainment and media. To learn more about AMTC, or to audition for the SHINE Conference, please visit http://www.amtcworld.org.