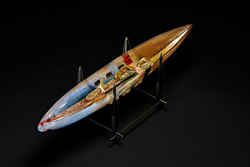 Some of the pieces in this exhibition have never been displayed in the United States, and we are so pleased to offer these treasures for the people on our Creative Coast.
Longboat Key, FL (PRWEB) December 16, 2014
This January, the Longboat Key Center for the Arts (LBKCA), a division of Ringling College of Art and Design, collaborates with Habatat Galleries (MI) to present 'Reflections From the Fire,' a series of extraordinary international glass events. In the Durante Gallery, LBKCA will be presenting two dozen glass artists representing 13 countries around the globe and myriad techniques and approaches to studio glass that are as diverse and widespread as their creators.
Curated by Habatat Galleries, Reflections From the Fire consists of 29 works of art by 25 glass artists utilizing a variety of techniques including casting (sand and kiln), blowing, carving, sculpting, and laminating. Noted artists included in the exhibition include Dale Chihuly (US), Lino Tagliapietra (Italy), Harvey Littleton (US), Peter Bremers (The Netherlands), and Hiroshi Yamano (Japan) among several others.
"We're delighted to be collaborating with Habatat Galleries to bring the top glass artists of our time to display and sell their works at LBKCA," says Jane Buckman, Director, LBKCA. "Some of the pieces in this exhibition have never been displayed in the United States, and we are so pleased to offer these treasures for the people on our Creative Coast."
In addition to the exhibition, on display January 16 – February 26, LBKCA will be hosting a number of related programs to enhance the viewer experience and offer the opportunity to purchase glass art from globally recognized artists. These exhibition related events include a preview reception to check out artworks for auction in advance, a lecture delivered by Habatat founder and president, Ferdinand Hampson, an international glass auction coordinated by Habatat Galleries (MI), an opening reception with remarks from renowned artist Peter Bremers, and a film screening of the award-winning documentary, My Glass Odyssey, hosted by writer and director, John Waterman.
This is the first time LBKCA and Habatat Galleries (MI) have collaborated to bring contemporary glass art to Longboat Key, an area known for its many glass art collectors and connoisseurs.
EXHIBITION RELATED EVENTS:
Auction Preview and Lecture
January 13, 6:30-7:30 pm
Lecture: 7:30 pm
Come and preview the work of international studio glass artists before the auction on Wednesday and hear Dr. Ferdinand Hampson, co- founder of Habatat Galleries speak about collecting glass art, an introduction of what to look for and where the pitfalls lie in developing an art collection. This will be followed by a signing of his latest book "Studio Glass in America". For a complete bio of Dr. Ferdinand Hampson and complete list of works available during the auction, go to http://www.ringling.edu/lbkca.
International Glass Art Auction
January 14, Doors Open at 7 pm
Participate in our professional auction reaching a potential of 200,000 glass enthusiasts and collectors from around the world. These beautiful art treasures will be available for purchase in person at the live auction, online, and over the phone.
Opening Reception and Lecture
January 16, 5:30-7:30 pm
Noted artist Peter Bremers from the Netherlands will deliver remarks about the growing world of studio glass. He will discuss his own exciting work in the exhibition and introduce his latest book, An Artist's Journey, which consists of an extended interview with editor Joshua Rose about Peter's personal journey through the world of glass including his inspiration, processes, materials, and collaborations. His book was recently released in The Netherlands this October and in the United States at SOFA Chicago, this November.
For more information about Peter and his newly released book, go to http://www.peterbremers.com.
For a complete list of artists represented and Peter Bremers' bio, go to our website at http://www.ringling.edu/lbkca
Film Screening and Lecture, 'My Glass Odyssey'
February 4, 3-5 pm
Follow John Waterman, writer and director of the award winning documentary, My Glass Odyssey, as he travels across the United States meeting glass artists and studio owners and gleaning insights about their inspirations and processes.
If you are interested in attending any of the above events, please rsvp to
941.383.2345 or lbkca(at)ringling(dot)edu. For more information about the exhibition and events, please visit: http://www.ringling.edu/learn/community-education/community/lbkca/exhibitions/reflections-from-the-fire/
About LBKCA
Longboat Key Center for the Arts is a division of Ringling College of Art and Design that specializes in bringing top quality education, exhibitions, programs, and events to the community of Longboat Key and beyond. Acquired by the College in 2007, LBKCA has a 60+ year history located in the historic Longbeach Village of Longboat Key. As a member of the Ringling College community, LBKCA brings RCAD instructors, alumni, and students to deliver professional fine arts instruction through a series of MASTER classes, demos, workshops, and community art classes. Inspired exhibitions from regionally, nationally, and internationally recognized artists, along with visiting artist lectures and demos, create a platform for cultural conversation and community gathering. Community events include concerts, gallery openings, and select films to bring visitors from across the gulf coast of Florida to engage, create, collaborate, and experience the arts and culture.
About Habatat Galleries (MI)
Founded by Ferdinand Hampson, Habatat Galleries (MI) was established in 1971 in a suburb of Detroit, Michigan. Habatat is the oldest and largest gallery in the United States devoted exclusively to artists working with glass as their medium. While the gallery is based out of Michigan, Habatat operates an additional gallery in West Palm Beach, FL. The 12,000 sq. ft. Michigan gallery is the home of the original International Glass Invitational, which for 42 years has introduced and exhibited the greatest artists working creatively with glass. Habatat Galleries' mission is to service collections both public and private, taking an active interest in developing collections and promoting artists whom we feel should be recognized in our generation and beyond. Habatat Galleries – Michigan works with many museums and art centers developing developed exhibitions that have been displayed in over 100 public institutions.
For more information, go to http://www.habatat.com.