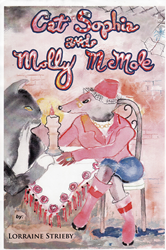 (PRWEB) December 17, 2014
The new Kindle four-star edition of the children's picture book, Cat Sophia and Molly McMole, teaches that when bad things happen, get a grip for heaven's sake and go inside yourself and find the solution.
The reader has to take this literally because it takes place underground with "roots and shoots" where a bunch of pesky mole creatures have taken over a beautiful green lawn led by the crafty Mayor Molly McMole--holes and piles of dirt everywhere.
Not only that , this really happened to the celebrated Lorraine Strieby and when she found out how hard it was to dispense with moles, she fought back by writing and illustrating this book--a two year job in fact. She owned her cat Sophia but she created "Ms. Molly."
Not only is this ebook beautiful to look at, but it teaches character building to all the 3 year olds up to 18 year olds. In fact, Strieby's imagination will entertain the whole family. When the storyteller reads the book out loud the words flow just like poetry. To quote a reader on Kindle:
"A Whimsical tale...what ensues is a fanciful story of two unlikely characters that forge an enduring friendship and is complemented with colorful, whimsical watercolor illustrations." Strieby, in her whimsical style, has come up with a story with magical castles with onion-shaped domes and tunnels going straight towards Mayor Molly's courthouse right next door to the Earthy Worm Cafe.
Strieby will travel to Florence, Italy, in March to receive the "Sandro Botticellii Art Critic's Prize in the Dante Alegheri Home Museum curated by Palo Levi and Francesco Saverio Russo and on December 4, 2014 was interviewed by KC Armstong on Woman's Radio NetWork, WRNW1.com where she won the Woman of the Year Award and her photo will be on celebrity row along with Sting and Sharon Stone and other celebrities. Her paintings can be seen in the just published Effetto Aarte Magazine. Her painting of "Clarinet Blues" traveled to a show in La Grande Exposttion Universelle in Paris, the Eiffel Tower, and then on to the Wunderkammer "The Secret Room of Art, Palerno Museum, Siscily, jurried by Francesco Saverio Russo, international art consultant.