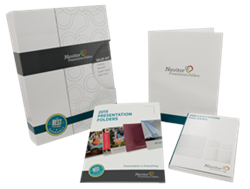 We are serious about creating the best folder experience for our customers," said Bill Bohnning, general manager, "and we are excited to share our new catalog with them.
North Mankato, Minn. (PRWEB) January 08, 2015
Navitor Presentation Folders, a leader in wholesale printing of custom presentation folders based in North Mankato, Minnesota, is pleased to announce the release of their 2015 catalog. This catalog features a variety of new additions, including new stocks, updated pricing and a new product.
According to Bill Bohning, general manager of Navitor Presentation Folders, "Our 2015 catalog is filled with exciting new possibilities for our customers! We have lowered our prices on 40% of our price points and introduced new box pocket folders. It's all part of how we are dedicated to providing our customers with the industry's best folder experience."
Box pocket folders, the newest addition to the Navitor Presentation Folders product line, are designed with expanded pockets that can hold up to 200 pages. Navitor Folders attributes the reduced pricing in this year's catalog to new equipment added to their production floor in 2014.
A sales kit for Navitor Presentation Folders is also available. This kit includes the catalog, a wide variety of folder samples and an updated swatch book with new additions to the Navitor Folders stock offering. "Our updated 2015 kit is a complete sales tool for our customers," said Bohning. "Last year's kit was a hit – it won gold at the PPAI Image Awards in the Distributor Sales and Marketing Aids category – and this year's kit builds on that success with new pricing and stocks."
The 2015 Navitor Presentation Folders Catalog will be available both in printed and digital formats. The Presentation Folders Sales Kits featuring the updated catalog and swatch book are available exclusively to Navitor resellers and can be requested through the Navitor website.
For more information about Navitor Presentation Folders, visit their website.
About Navitor Folders
With over 60 years of experience in the print industry, the mission of Navitor Folders is to provide print resellers and distributors with the industry's "Best Folder Experience". They offer an extensive selection of folder and packaging products exclusively to resellers. Navitor Folders is a division of Navitor Inc., a leading commercial wholesale printer headquartered in Minnesota and with manufacturing facilities nationwide. Navitor is part of the Taylor Corporation family of companies. For more information, please visit our website at Navitor.com.