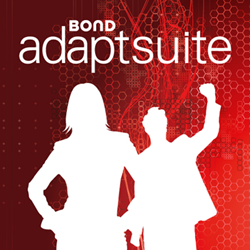 Atlanta, GA (PRWEB) December 30, 2014
Bond International Software, the global recruitment, HR and Payroll specialists, released Bond AdaptSuite recruiting and staffing software Version 3.0 with critical enhancements that enable temporary staffing agencies to better manage their compliance with the regulations imposed on them by the Affordable Care Act.
The Affordable Care Act has introduced complex regulations that create difficulties in tracking the eligibility requirements for a temporary staffing company's contingent workforce. In response, Bond has developed a comprehensive tracking solution within AdaptSuite to ease this burden and reduce the administrative costs of ACA management compliance.
Bond AdaptSuite staffing software is a unified ACA compliance management solution that delivers a holistic approach to administration, tracking, and reporting. The AdaptSuite ACA solution includes:

Inclusive Temporary Employee ACA Eligibility Tracking
* Employee record Classification for Variable, Non-variable, Part-time and Seasonal
* Eligibility Algorithm based on Timecard Hours
* Rehire Rules including Break in Service & Rule of Parity

Temporary Employee ACA Details
* Hire Date, Eligibility Status, Administrative Status, and Coverage Status
* See both current and trending dates for all periods
* Review sum of ACA eligible hours
* Next evaluation date

Reporting for ACA Eligibility and ACA Activities
Steve Taylor, Bond International Software Inc. president and CEO stated that "There is no doubt that ACA compliance management is the biggest government-mandated administrative challenge facing staffing firms today. These ACA administrative burdens can really eat into a staffing company's productivity, and add to their cost of service delivery. Bond's ACA compliance management solution, which we've implemented within all of our staffing and recruiting software products, offers staffing companies an effective means to more easily gather the data required and manage their ACA compliance."
Bond will host an online Webinar to demonstrate AdaptSuite's ACA compliance management features on January 14, 2015. Click here to register for the Webinar. For more information on Bond AdaptSuite recruiting and staffing software or to schedule a demonstration, please visit http://www.bond-us.com or call 800-318-4983.
About Bond International Software PLC (UK, AIM: BDI)
London stock-market listed Bond International Software has been a global provider of Recruitment, HR and Payroll software & services for 40 years.
Bond is one of the largest, and most established, global specialists in staffing software for recruitment agencies worldwide and is a rapidly growing provider of web-based e-recruitment and talent acquisition software to the corporate market. Bond also provides established HR and payroll outsourcing services and software directly to both the public and private sectors. For more information please visit http://www.bondinternationalsoftware.com.
Bond International Software, Inc. is the U.S. operating company for Bond, with headquarters in Atlanta, Georgia. Bond U.S., with more than 100 employees, supports nearly 600 customers and 20,000 users. For more information please visit http://www.bond-us.com.
For further information, please contact:
Phil McCutchen, Marketing Manager
Bond International Software, Inc.
phil(dot)mccutchen(at)bond-us(dot)com
1-800-318-4983 x1112 or 770-246-2319