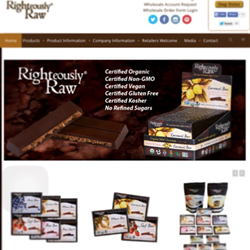 Our number one priority is the health, happiness, and satisfaction of our customers
San Diego, CA (PRWEB) December 18, 2014
Ordering Righteously Raw Chocolates is now easier than ever whether you're a health food store, an individual customer, or a Canadian resident. Righteously Raw chocolates continue to be sold in over 1,600 stores (and counting) nationwide, and earlier this year Earth Source Organics (ESO) launched a web store allowing customers to order online in an effort to reach the scores of customers who may not otherwise have easy access to their products. This web store was in addition to ESO's vendor portal, where specialty and health food stores placed their wholesale orders.
The launch of this new website now creates a one-stop space for all Righteously Raw customers, with shoppers able to choose from a variety of custom packages, vendors able to inquire about and place bulk purchases, and international customers finally able to ship to their far flung destinations. Increasing customer convenience even further, ESO's website also allows for simple online ordering from any mobile device.
"Our number one priority is the health, happiness, and satisfaction of our customers," says ESO President Audrey Darrow. "This new website increases ease of access for all of our customers, putting our products at their fingertips with the click of a button." Along with a boost in ease and functionality, the website has a completely revamped look, with brand new product pictures, updated descriptions, and a cleaner web display.
To explore Earth Source Organic's new website, please visit http://www.righteouslyrawchocolate.com.
More About Righteously Raw Chocolates:
Righteously Raw is the gourmet chocolate brand of the certified organic food manufacturing company Earth Source Organics. Based in Southern California, this company is on a mission to provide organic and delicious foods to its customers to help them lead happy, healthy lives. For more information and to find Righteously Raw Chocolates near you, please visit http://www.righteouslyrawchocolate.com.
To learn more about Earth Source Organics' website launch, please contact Audrey Darrow at (760) 734-1867 or info(at)earthsourceorganics(dot)com