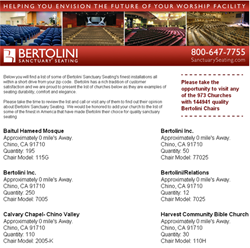 We are honored to add our customer's church to the list of some of the finest in America that have made Bertolini their choice for quality sanctuary seating
Chino, CA (PRWEB) December 17, 2014
Bertolini Sanctuary® Seating is excited to release an improved feature to their website. The new feature is "Find Bertolini Clients by Zip Code". It is a list of some of Bertolini Sanctuary® Seating's finest installations all within a short drive from the potential customer's zip code. Located on the website's menu, the customer is able to enter their zip code; select the miles desired and click enter. A list will be presented of churches or facilities as examples of seating durability, comfort and elegance. Bertolini Sanctuary® Seating has a rich tradition of customer satisfaction and they are proud to offer an immense list of satisfied customers throughout the nation.
The product specialists at Bertolini Sanctuary® Seating encourage their customers to take the time to review the list and call or visit any of the churches or facilities to find out their opinion about Bertolini Sanctuary Seating. The list of customers provides the church or facilities name, city and state, how many miles they are approximately located from the zip code that was entered, the model of the Bertolini church chair that was purchased and the quantity.
Bertolini Sanctuary® Seating strongly feels that the more tools they are able to provide to their customers and potential customers is a great opportunity to assist them. "We are honored to add our customer's church to the list of some of the finest in America that have made Bertolini their choice for quality sanctuary seating," says Carol Brown, Senior Product Specialist of West USA Region.
Bertolini Sanctuary® Seating is a design leader in the use of ergonomically correct chair design and its Flex fit seat design technology for churches. Their chairs are light and strong. Their expertise in the manufacture of quality stackable seating and commitment to superior customer service wins the appreciation of congregations worldwide. To find out more, visit http://www.sanctuaryseating.com.