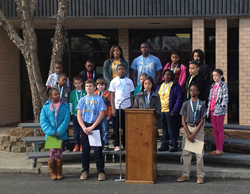 "[Peachjar] will help our district accomplish our goal of becoming greener." - Pam Little-McDaniel, Director of Public Information, Florence School District One
Florence, South Carolina (PRWEB) December 17, 2014
Peachjar, a San Diego based technology company, is helping schools across the nation achieve their goals to conserve natural resources. Florence School District One has successfully implemented Peachjar's innovative system for distributing school flyers electronically.
The launch of Peachjar was announced at a press conference on Arbor Day. A student representative from each school donned a Peachjar lanyard and spoke of how Peachjar would benefit the district. You can view the full press conference here.
Pam Little-McDaniel, Florence One's Director of Public Information, said "Peachjar is very easy to use. It will help our district accomplish our goal of becoming greener. We are very enthusiastic about this initiative because this announcement coincides with Arbor Day in South Carolina, a day to plant trees."
Florence School District One implemented Peachjar's system for free since local community partners pay a small service fee to distribute their school-approved eflyers and post them online. These eflyers are sent directly to parents who see them as visually engaging images right on their smartphone or computer screen. Parents click to sign up their children for youth sports, enrichment programs, and community events.
About Peachjar:
Peachjar was founded in 2011 in response to the billions of paper flyers being carried home from schools each year in children's backpacks. The company has helped schools across the nation improve their school-to-home communication by delivering eflyers directly to parents. Check out Peachjar's one-minute animatic to learn more.