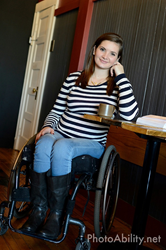 The big picture goal of Inclusive imagery is about access
(PRWEB) December 18, 2014
2014 has seen some great new galleries, models and photographers added to the PhotoAbility library featuring some stunning locations and settings including: A summers afternoon on Sebastian Beach Florida, the joy of three young expectant mothers to be, an afternoon of track and field, sweat and determination at the gym, college life, young romance, the enchantment of a Christmas proposal, an afternoon in the forest with the dogs and professional medical and office environments, to name a few.
People from all around the globe and all stages of life are depicted with varying disabilities ranging from high level quadriplegia to walking with the assistance of braces and forearm crutches. These images are sure to challenge the public's perceptions of the capabilities of individuals with disabilities. The images in the Photo Collection tell a different story that will educate and inspire.
The images provide a great resource to allow advertisers to acknowledged and reflect the lives of people with disabilities in their campaigns.
PhotoAbility.net feels that powerful messages imparted through imagery will bring about important social change and increased access and rights. Its Stock Image Library represents over one billion persons with disabilities worldwide, whose spending power has a substantial impact on travel, leisure, employment and lifestyle economies all over the world. Yet, this demographic is rarely seen or acknowledged in advertising and editorial images. Why is a small, yet powerful and growing segment of society not being seen or represented as customers?
This series is important, not only to increase the usage of positive imagery reflecting the real lives of those with disabilities, but also to encourage further inclusion. It will also help eliminate the fear and negative stereotyping that so often permeates all levels of society.
"The big picture goal of Inclusive imagery is about access," says Deborah Davis, Co-Founder of PhotoAbility. Deborah sustained a spinal cord injury at 18 resulting in incomplete quadriplegia. "While many of us live in communities that have chosen to remove structural barriers and accommodate our needs, that is simply not something we can take for granted. These rights have not been afforded to so many in our world who are waiting for equal access and freedom to live full and productive lives."
About PhotoAbility.net
PhotoAbility was established in March 2012 by Deborah Davis and Bill Forrester, with the goal of providing high quality, unique, non-medically oriented imagery of persons with disabilities for purchase by the advertising, marketing and media sectors. The Commercial Stock Image Library specializes in positive and "Inclusive" images of people with a disability in leisure, lifestyle and travel settings.
For more information and to view PhotoAbility.net's positive, inclusive Stock Images, please visit http://www.PhotoAbility.net