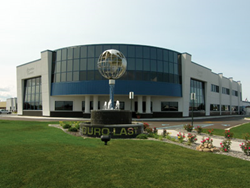 "Duro-Last has been a leader in PVC roofing systems since our inception in 1978. We have built the newest PVC sheet extruder in the world to allow us to handle increased demand for our products."
SAGINAW, MICHIGAN (PRWEB) December 17, 2014
Duro-Last, Inc. is pleased to announce the completion of a new PVC Extruder located in its Saginaw, Michigan manufacturing facility.
The announcement was made by Duro-Last CEO Tom Saeli and Mildred Burt, wife of founder John R. Burt, during a company-wide meeting today. This investment comes as part of Duro-Last's commitment to continue to manufacture the highest quality roofing systems in the industry.
"Duro-Last has been a leader in PVC roofing systems since our inception in 1978. We have built the newest PVC sheet extruder in the world to allow us to handle increased demand for our products," Saeli said. "We are enthusiastic about making this investment here in Saginaw, Michigan, and believe that investing in technologically advanced manufacturing in the USA is the right thing to do."
Duro-Last is the material of choice for high quality, low-slope roofing. Our PVC roofing membranes are durable, serviceable, flame resistant, highly flexible and recyclable. Duro-Last manufactures and sells complete PVC roofing systems with a broad range of products to satisfy all types of low slope roof requirements. Duro-Last has manufacturing operations in Michigan, Mississippi, Texas, Iowa and Oregon, and distribution centers in New York and Ontario.
About Duro-Last®, Inc.
Known as the "World's Best Roof®", Duro-Last®, Inc. is the world's largest manufacturer of custom prefabricated, thermoplastic single-ply roofing systems. Factory controlled custom prefabrication eliminates up to 85% of field seams, resulting in lower on-site labor costs and easier installation. This highly sustainable and extremely durable roofing system is leak-proof, virtually maintenance-free and resistant to chemicals, fire, punctures, and high winds. This commitment to quality is the reason that Duro-Last can offer a warranty that we believe is the best in the industry. Over two billion square feet of Duro-Last membrane have been installed throughout North America. For more information on Duro-Last, call 800-248-0280 or visit http://www.duro-last.com.