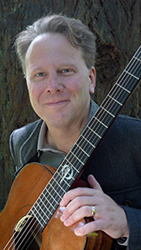 Owings Mills, MD (PRWEB) December 23, 2014
On Saturday, February 7, 2015, at 8:00pm, the Gordon Center for Performing Arts plays host to four of the greatest guitarists in the world, in an inventive evening of eclectic and emotional contemporary guitar music. The program: International Guitar Night, featuring acoustic musicians from across the globe.
Founded in 1995 as a forum for the world's finest guitarists and composers to play their latest original songs and share musical ideas with peers in public concert, International Guitar Night evolved into critically acclaimed annual tours in the United States (starting in 2000), Canada (starting in 2006), and the United Kingdom (starting in 2007). They first played the Gordon Center in January of 2002.
International Guitar Night is the invention of Brian Gore, a San Francisco "guitar poet" who had, himself, gained a reputation as one of the most interesting and influential performers in a style of playing known as fingerstyle guitar (have a listen to Gore's The Vintner)
In addition to Gore, International Guitar Night will feature:

Classical innovator and Californian Andrew York, one of today's most visible and innovative classical guitar composers, a Grammy winner for his work both with the Los Angeles Guitar Quartet and for his own brilliant compositions (Hear York's song Emergence)
Brazilian jazz master Diego Figueiredo's – one of the most sought after jazz artists and talented guitar players in the US and around the world, whose music is a fusion of jazz, Bossa Nova, and Classical (Listen to his Stella by Starlight); and;
Contemporary Iranian-Canadian steel string prodigy Maneli Jamal, who has won guitar competitions around the world for his incredible balance of power and sensitivity; check out: Movement I - Awakening
"We are proud to be bringing back this annual sell-out program of International Guitar Night to the Gordon," said Randi Benesch, Managing Director of the Gordon Center for Performing Arts. "Every year a different group of incredibly talented and diverse virtuosos bring their unique styles to our stage. Along with the intimacy and incredible acoustics of the Gordon theater, this show is literally 'music to your ears.' Don't miss this one!"
Tickets are $28 in advance; $32 at the door, and may be ordered online at http://www.gordoncenter.com. The Gordon Center is located on the campus of the Rosenbloom JCC at 3506 Gwynnbrook Ave., Owings Mills, MD 21117. The Box Office can be reached at 410.356.7469.
###
The Peggy and Yale Gordon Center for Performing Arts is Baltimore County's premiere arts destination. The Gordon Center offers an eclectic variety of professional entertainment in music, theater, dance, family programming and film. You will experience world-class acoustics in an intimate, state-of-the-art venue. Free parking in well-lit spaces, handicap accessible, and equipped with a special RF system for the hearing impaired, the Gordon Center can be enjoyed by all.