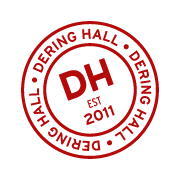 "Serious interior design projects require the expertise of specialty artisans so adding the category to Dering Hall was a natural step." Peter Sallick, co-founder and CEO
New York, NY (PRWEB) December 18, 2014
Dering Hall, the online portal for high-end home furnishings, has officially launched a new niche within its community of design professionals: Specialty Artisans. The new category was added in an effort to cover the diversity of talent within the design community already on the site, including interior designers, architects, landscape architects, home furnishing brands and offer its users both further inspiration and resources for high-end design. Dering Hall has partnered with specialty branding outfit Alanna Bailey Consulting to selectively add those exceptional artisans, design resources and ateliers who are best known in the industry for their expertise and superior craftsmanship.
Selected artisans and companies include a knockout line-up of artisanal talent, including: Miriam Ellner Design – Verre Eglomise, La Forge de Style, Atelier Viollet, The Ruffled Window, Contract Workroom, Foster Reeve & Associates, Marble Crafters, Cabinets by Stanley and more. This new addition to Dering Hall's membership reveals yet another component of the design process to be considered when designing or furnishing a space. This unique partnership with Alanna Bailey Consulting and use of Dering Hall's platform for specialty artisans has created a distinct venue in the design industry to view the diversity in resources, craftsmanship and expertise available.
"We designed Dering Hall to be the definitive directory and sourcing tool for the very best in interior design," says Peter Sallick, co-founder and CEO of Dering Hall. "Dering Hall's designer directory has always featured the top interior designers, architects and landscape designers in the country. But serious projects also require the expertise of specialty artisans so it was a natural extension to our platform. We are thrilled to have Alanna Bailey as a partner to connect us with the best talent in the industry."
"Dering Hall is such an incredible resource in the design world, I think it's absolutely outstanding they wanted to enrich their community by offering these artisans a place to shine alongside all the design talents they work with," says Alanna Bailey, founder of Alanna Bailey Consulting. "I'm such an advocate for the details. Highlighting these artisans' work and process is incredible - this is going to be something special."
About Dering Hall:
Dering Hall, http://www.DeringHall.com, is changing the way interior designers, architects, and sophisticated consumers find high-end home décor furnishings for serious design projects. They make it easier for design professionals to contact and buy directly from more than 500 high-end home furnishing showrooms, artisans, and brands. Dering Hall also markets the services of top-tier interior designers and architects to sophisticated consumers through its designer directory, which also serves as the official directory for ELLE DECOR, House Beautiful and VERANDA. Additionally, Dering Hall boasts a robust editorial section geared towards educating design professionals and consumers on the value of high-end products and professional design services.
About Alana Bailey Consulting:
Alanna Bailey Consulting, a boutique marketing and brand development outfit founded in 2012 by entrepreneur and artisanal advocate Alanna Bailey, was created to address branding and identity needs for architects, interior designers, builders and artisans alike. Specializing in working with the unique and dynamic niche of the specialty craftspeople and artisans in the shelter industry, her firm is proud to trail-blaze in communications and brand recognition for these voices.
Press Contact: stacey.copeland(at)deringhall(dot)com
Dering Hall Membership Contact: membership(at)deringhall(dot)com
Specialty Artisan Contact: ab(at)alannabailey(dot)com