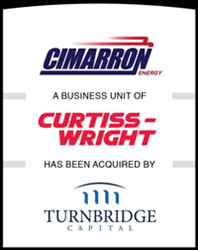 Charlotte, NC (PRWEB) December 17, 2014
BlackArch Partners is pleased to announce the sale of Cimarron Energy Inc. ("Cimarron" or the "Company"), a business unit of Curtiss-Wright Corporation, to Turnbridge Capital ("Turnbridge"). Cimarron, headquartered in Norman, OK, is a national leader in the design and manufacture of highly customized and engineered energy production, processing and environmental solutions for the oil and gas industry.
BlackArch was retained by Curtiss-Wright Corporation to serve as its exclusive financial advisor.
About Cimarron Energy
Founded in 1976, Cimarron Energy manufactures oil and natural gas production and processing equipment providing separation, flowback and environmental products to exploration and production companies throughout the United States. Cimarron's production and processing equipment is used to efficiently separate oil, natural gas and water as well as other materials from hydrocarbon streams for transportation and sale. The Company's environmental devices provide high performance, cost effective and regulatory compliant solutions for emissions control. Cimarron operates from manufacturing facilities in Newcastle, OK, Marlow, OK, and Evans, CO. For more information, visit http://www.cimarron.com.
About Turnbridge Capital
Turnbridge Capital is an energy-focused private equity firm with offices in Dallas, TX, and Houston, TX. Turnbridge seeks to invest alongside experienced management teams in companies that provide products and services to the upstream, midstream and downstream market segments. For more information, visit http://www.turnbridgecapital.com.
About BlackArch Partners
BlackArch Partners is a leading middle-market investment bank offering a full spectrum of advisory services to financial sponsors, private companies and diversified corporations BlackArch addresses the needs of entrepreneurs, founders and shareholders of private companies with specialized services that include M&A advisory, strategic advisory and private capital solutions. Headquartered in Charlotte, NC, with offices in Houston, TX, BlackArch features a total of 12 industry-focused practices that cover all sectors of interest to middle-market investors; BlackArch professionals have closed over 300 transactions in 16 countries on four continents. Please visit our website, http://www.blackarchpartners.com, for more details.
Securities offered through BlackArch Securities LLC. Member FINRA and SIPC.