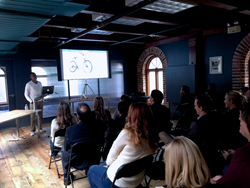 Demo Day was amazing. You put all of this passion into one app and present it to the world.
(PRWEB) December 18, 2014
The Iron Yard's Tampa Bay campus graduated their first cohort of software engineers on Friday, December 12th. Two classes, one studying Front End Engineering and the other Ruby on Rails Engineering, sprinted through intensive 12-week courses consisting of advanced lectures, lab time, one-on-one mentorship and lots of late nights coding.
With no coding experience required, how far can a three-month course take students? The Iron Yard's programs take graduates far enough to launch a career, get a job, or start a company. Students spend the final two weeks of their project-based curriculum building a robust application for over 80 hours each week, tackling everything from concept to deployment. That capstone project serves as proof that they are ready to work as a professional and solve programming problems for companies and clients.
The recent graduates from The Iron Yard's Tampa Bay campus presented final projects ranging from a personal fundraising tool to an app that lets you find drinks based on your preferences and favorite them. The graduates are now pursuing jobs as developers and launching freelance careers—and they are ready. Each student has learned the fundamentals of not only their chosen programming language, but how to think like an engineer, plan and estimate projects, work in a team with other software developers and learn new skills through research.
Many students are well into their job searches and have begun conversations with a wide range of local software leaders, including SavvyCard, ParableSoft, MadMobile, T. Rowe Price, HCI Group and recruitment firms like Cyber Coders. Graduates are finding the job market very welcoming, and some have even begun the interview process only days after graduating. Students and companies alike are excited about The Iron Yard filling the talent gap and growing the already-strong tech community in Tampa Bay.
Interested in learning to code or hiring development talent? Check out theironyard.com/tampabay to find out more, and mingle with the graduates themselves at their next Demo Day.