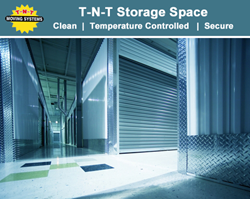 Charlotte, NC (PRWEB) December 18, 2014
As more and more people are moving into the Charlotte area, more are choosing to rent before they buy a home. T-N-T Moving Systems helps renters with their full-service moving package. Renters can hire T-N-T Moving Systems to move their belongings and store them at their facility.
Charlotte is one of the fastest growing real estate markets in the country, according to Forbes Magazine. It can be difficult to find a home to buy in the Charlotte market, so more people are renting before they buy. "Renting a house often means downsizing," explains Todd Koepke, co-owner of T-N-T Moving Systems, "We can move our clients into their new home and store their extra belongings at our facility until they find that perfect home."
According to a study done by HelloWallet, it may be a smarter financial decision to rent a house instead of buying one. "Whether buying or renting, people often have more stuff than they can store inside their home," explains Koepke, "We offer month to month leases on our storage units, so when you find your forever home, we can easily move the stuff from your unit to your new house."
Downsizing to a smaller home can be difficult. T-N-T hopes to help with the transition by providing moving services and storage units together. They will load the truck according to which items need to be transported to the new house and which ones need to go to storage. Then they will make two stops, one at the new residence and one at their storage facility. "Our moving package saves time and money on moving day," says Koepke.
The T-N-T Moving Systems Storage Facility is centrally located off South Boulevard in Charlotte, NC. "Our clients enjoy our well-lit facility and feel safe storing their belongings here," says Tom Tulowiecki, co-owner of T-N-T. Clients can get a free estimate on packing, moving, and a storage unit by visiting their website at http://www.tntmovingsystems.com . Each client that rents a storage unit receives a key to the facility and their storage unit. Clients are required to go through two gates which adds an extra layer of security. "We keep our facility heated and air conditioned as well as clean for our clients," says Tulowiecki.
T-N-T offers local and long distance moving services, packing, transporting, and storage units. They have been serving the Charlotte area for 20 years. They are located at 206 East Woodlawn Rd Charlotte NC 28217. For more information on their services, call 704-523-1455.