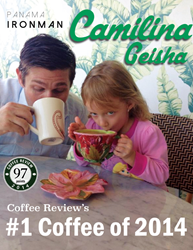 Mike Perry credits the unparalleled collaboration of Roberto Brenes and himself for earning the #1 spot.
Los Angeles, CA (PRWEB) December 19, 2014
Coffee Review, the world's leading coffee guide, released their Top 30 Coffees of 2014 on December 10. This list includes the best coffees submitted by the top specialty roasters in the nation with Klatch Coffee of Southern California taking the number one and number four spot!
With its distinct "Peak of Flavor" roasting style, Klatch Coffee was able to develop a unique fusion of science and artistry within its roasting profiles, giving a memorable drinking experience Roast Master Mike Perry describes as "klatchtastic".
The coveted #1 spot is Klatch Coffee's Ironman Camilina Geisha. Farmer and producer, Roberto Brenes, prides himself and his team in providing a bean that will keep people wanting more. "Having a long period of dryness, at the beginning and the end, may have enhanced the sweetness of the grain," Roberto mentioned about his 2014 Geisha crop that gets its name from his granddaughter.
Mike Perry credits the unparalleled collaboration of Roberto Brenes (farmer) and himself as the roaster, infusing passion, knowledge and experience, elevating this coffee to the next level for earning this coffee the #1 spot. Coffee Review's flavor profile says it all: "Beautifully structured and almost impossibly intricate in flavor and aroma. The fruit sensation is so deep and so complex that one could find almost any note in it: we settled on guava, mango and tangerine. Intensely floral – passion fruit, lilac, lily – with crisp cacao nib and sandalwood complication. Rich, lyric acidity; syrupy but buoyant mouthfeel. The aromatic fireworks quiet a bit but still saturate the finish."
The coffee that received the #4 spot was the Kenya Makwa AB. With their meticulous cupping process, Coffee Review described its taste profile to be "Immensely rich and complex. Blood orange, black currant, dark chocolate, sandalwood, a hint of flowers in aroma and cup. Resonantly balanced and floral-toned acidity."
To celebrate, Klatch Coffee is currently offering a Geisha Duo. This package features two high-end Geisha coffees, the #1 coffee of 2014, the Ironman Camilina and the Esmeralda Leon Geisha. For more information or to purchase their Geisha Duo visit http://www.klatchroasting.com.
About Klatch:
Klatch is an award-winning and renowned specialty coffee company and roaster in Southern California. Since 1993, Klatch has been searching around the world for the finest coffee, sourcing via a Direct Trade model and buying only the top 1% of beans available. Mike Perry, Roastmaster, blends a background in chemical engineering with a love for great coffee to balance science and artistry in achieving the perfect cup. Awards for Klatch include being named 'Micro Coffee Roaster of the Year' by Roast Magazine. In addition, Klatch's WBC espresso blend is the only espresso ever awarded "Best Espresso in the World" at the World Barista Championships. Coffee Review, the world's leading coffee guide, has awarded over 80% of Klatch coffees with a score of 90 points or above. Besides great coffee, Klatch is home to Two-Time United States Barista Champion Heather Perry who finished 2nd in the world and is the current Ultimate Barista.
To learn more about Klatch Coffee and/or purchase Award-Winning Coffee, visit http://www.KlatchRoasting.com. Klatch Fans can find the latest and up-to-date news and discounts on Facebook @KlatchCoffee and Twitter @KlatchRoasting.