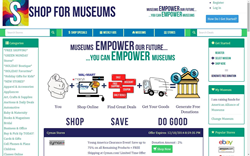 MILWAUKIE, OR (PRWEB) December 18, 2014
The holidays present the perfect opportunity to give back to a charitable organization or cause that is meaningful. Shop for Museums, the online site where shoppers can purchase from their favorite retailers while simultaneously donating to a museum or organization of their choice, has released their brand new, completely updated site with enhanced features that make shopping and donating even easier and more affordable than before.
Shoppers can now join or login using their Facebook or Twitter accounts, collect favorite stores and museums in their account, monitor their donation progress, easily locate stores and deals using new search features, plus browse by categories and several carefully curated deals pages. The deal pages include sales, coupons, free shipping, special offers and exclusive opportunities. These new features help supporters to save money on their purchases while creating a donation for their favorite museum.
Shop for Museums has worked with museums and museum associations across the country to increase public awareness about the modern challenges of keeping museums funded for more than 15 years. In order to help address this issue, Shop for Museums has teamed up with over 1300 online stores to help make a difference for over 1200 museums and organizations across the United States. This outreach is designed to help raise funds and increase the connection between museums and supporters in their community, regardless of how far and wide that community reaches.
For more information or to get started supporting a museum or museum association, please visit: shopformuseums.com
ABOUT SHOP FOR MUSEUMS
Shop for Museums is the leading source of fundraising for museums, zoos, parks and other related organizations across the U.S. By offering discounts to customers, Shop for Museums has established a partnership between consumers, retailers, and museums, where a portion of each purchase goes toward a museum of the buyer's choice.