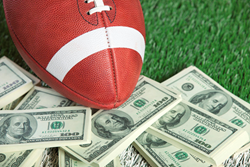 We can certainly understand why Finley is opting to exercise his insurance option, and we should also learn from this important financial lesson in planning and decision-making.
(PRWEB) December 19, 2014
NFL Star, Jermichael Finley, Forced To Evaluate His Estate Planning and Future Career Due to Spinal Injury Opines UltraTrust.com
After suffering a very serious injury during a football game, a professional athlete weighs his career options and teaches us an important lesson in life and estate planning. Ultratrust.com investigates.
After a crushing spinal cord injury that brought uncertainty to his professional football career, former Green Bay Packers tight end Jermichael Finley decided to make a concerted effort to return to the gridiron. In early 2014, Finley was working out at a high-end training facility in Arizona's Valley of the Sun region, and he was determined on making a comeback as a free agent (1). A few months later, however, Finley was reportedly changing his mind and looking to collect as substantial amount of money in exchange for possibly ending his chances of returning to the field (2).
According to former NFL players and CNBC financial commentators Jack Brewer and Jon Najarian of CNBC, Finley is exploring the possibility of not being able to play professional football for at least a couple of seasons (3). Like other players in the NFL and various professional sports leagues, Finley is the beneficiary of a disability income insurance policy. According to CBS Sports, Finley has waited quite a few months to file all the paperwork required to file this claim (2), which would compensate the loss of income he has endured since October 20th, 2013.
During a game against the Cleveland Browns (4), Finley was doing what he does best: Making an offensive play to advance his team closer to a touchdown. He collided against defender Tashaun Gibson of the Browns and had to be carried off the field. After spending one night in intensive care, Finley was diagnosed with a spinal cord contusion. Eventually, surgeons performed a spinal fusion and the star tight end began working out and training for what he thought could be a glorious return to NFL greatness; alas, sports news media outlets were reporting on Finley's change of plans by mid-October (5).
"Many of these disability income insurance policies will be only in the case of a seriously disabling injuries; this seems to be the case with Finley. In some cases, the tax benefits associated with these policies can also be very significant," explains Rocco Beatrice of Estate Street Partners, LLC, a firm dedicated to financial and estate planning.
Estate Street Partners owns and operates UltraTrust.com, a website that offers advice on several financial topics such as the use of irrevocable trusts for ultimate asset protection. Commenting on the Finley story, Mr. Beatrice added: "It is certainly refreshing to know that Finley opted to get this type of insurance policy in his chosen career. We are used to seeing so many negative news stories related to professional athletes and their poor financial planning; this is certainly not the case with Finley."
According to CNBC, Finley's contract with the Green Bay Packers has ended and he is currently a free agent (3). Finley's player statistics are certainly impressive, and his commitment to physical recovery has attracted the attention of a couple of NFL teams, but his potential income has diminished considerably. Issuing another disability income insurance policy to Finley may also be difficult, which can also explain why he is not as enthusiastic as before about playing football at a professional level. Comments from CNBC suggest that Finley may not be able to realize $10 million again under the current circumstances (3).
Expanding on this story, Mr. Beatrice continues: "We can certainly understand why Finley is opting to exercise his insurance option, and we should also learn from this important financial lesson in planning and decision-making. We also hope that Finley has also made plans for this insurance payout. Even if Finley does not continue playing in the NFL, he seems to be a smart man who can explore other income opportunities. For clients in his situation, we recommend our top asset protection product, the UltraTrust®. Finley has already shown his financial planning moxie by choosing adequate coverage for his chosen field and also exercising his right to make a claim instead of testing the dangerous waters of returning to the NFL; this shows that he has been diligent with regard to financial and life planning, and we think that he should move towards protecting his assets and planning his estate now."
In conclusion, Mr. Beatrice adds: "We often remind our clients that irrevocable trust products such as the UltraTrust® are not only for retirement or estate planning. Asset protection is something that we should focus during all stages of our lives; our income and assets are constantly threatened by many factors these days: Accidents, divorces and lawsuits are just some of these threats; any of them can endanger our income and what we own at any time. It is up to us to plan accordingly and choose the best protection, which is why we recommend the UltraTrust®."
About Estate Street Partners (UltraTrust.com):
For 30 years, Estate Street Partners has been helping clients protect assets from divorce and frivolous lawsuits while eliminating estate taxes and probate as well as ensuring superior Medicaid asset protection for both parents and children with their Premium UltraTrust® Irrevocable Trust. Call (888) 938-5872 to learn more.
#
1. Sports Illustrated, February 19, 2014 (mmqb.si.com/2014/02/19/jermichael-finley-injury-rehab/)
2. CBS Sports, September 28, 2014 (cbssports.com/nfl/writer/jason-la-canfora/24728058/jermichael-finleys-10-million-policy-ensures-he-wont-play-in-2014)
3. CNBC, December 17, 2014 (cnbc.com/id/102249683)
4. Sports Illustrated, October 29, 2013 (mmqb.si.com/2013/10/29/jermichael-finley-packers-injury-first-person/)
5. USA Today, October 10, 2014 (usatoday.com/story/sports/nfl/packers/2014/10/10/jermichael-finley-to-file-claim-on-insurance-policy/17046723/)