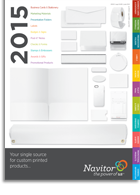 North Mankato, Minn. (PRWEB) January 06, 2015
Navitor, a leader in wholesale printing based in North Mankato, Minnesota, is pleased to announce the release of the 2015 Navitor Catalog.
The combined format of this year's catalog was first introduced in last year's 2014 Navitor Catalog and included the most popular product lines Navitor offers. This year's catalog also features two newly-added sections: Promotional Products and Labels. These sections were previously published as individual catalogs.
The catalog also includes new products recently added to Navitor's product offering. Full color fabric wall decals, phone cases, and badge talkers are new additions to Navitor's selection of specialty products. Box pocket folders have been added to the folders product line. New stock options for a variety of products have also been added.
The 2015 Navitor Catalog will be available both in printed and digital formats. Printed catalogs are available exclusively to Navitor resellers, and digital catalogs are available to visitors to the Navitor website.
For more information about Navitor and to see the digital version of the 2015 Navitor Catalog, visit the Navitor website.
About Navitor
Navitor Inc. is one of America's largest commercial wholesale printers, delivering innovative programs, services and technologies exclusively to our community of resellers. Headquartered in Minnesota and with manufacturing facilities nationwide, Navitor provides print resellers and distributors the industry's widest selection of personalized print and custom business identity products. Navitor is part of the Taylor Corporation family of companies. For more information, visit our website at Navitor.com.