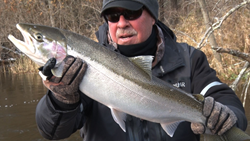 The Traverse City region may be the best-kept fishing secret in all of North America.
Traverse City, MI (PRWEB) January 06, 2015
A new cable television show promoting fishing in Michigan's Traverse City region debuts this week on the World Fishing Network, which delivers fishing programs to over 50 million households in the U.S., Canada and the Caribbean.
According to Traverse City Tourism, the region's official destination marketing organization, the half-hour programs will air Thursdays, Friday and Saturdays between January and June.
"The Traverse City region is the Holy Grail in terms of freshwater sport fishing," says former Steelhead/Salmon fishing guide and National Bass Tournament professional Danny Leonard, who hosts the new "iFishigan" program. "But if you're not an avid Michigan fisherman who has fished around the world, there's really no way of knowing it… the Traverse City region may be the best-kept fishing secret in all of North America."
Leonard filmed the 13 segments with his own crew, Team Outdoors Dreams, during the summer and fall of 2014. He says iFishigan "delivers extraordinary viewer-preferred big fish action," interspersed with short segments that highlight the area's natural beauty, lively food and wine scene and plentiful recreational opportunities.
With the clear, blue waters of Lake Michigan and scores of crystalline inland lakes just a short cast from its quaint shops, gourmet restaurants and sugar sand beaches, Traverse City has been quietly gaining fame among serious anglers and their families as the ideal venue for a fishing vacation. Grand Traverse Bay and the inland lakes near Traverse City are the favorite smallmouth waters of Kevin VanDam, regarded as the best competitive bass fisherman on the planet.
And fishing is a major tourism driver. According to the U.S. National Survey of Fishing, Hunting and Wildlife-Associated Recreation, American anglers account for $42.2 billion in retail sales each year, with an annual impact of $125 billion.
"Traverse City Tourism is excited to be involved with the show, to help educate sportsman on our great freshwater fishery, along with the allure and charm of our area and its many other great assets," said Traverse City Tourism President Brad Van Dommelen.
iFishigan airs on WFN Wednesday at 10:30 pm (Eastern Time), Thursdays at 2:30 am and 1:30 pm, and Sundays at 9:30 am and 6:30 pm.