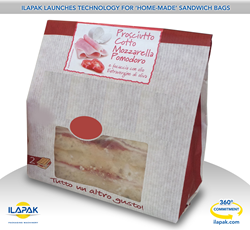 Lugano, Switzerland. (PRWEB) December 22, 2014
Heavy investment in R&D at ILAPAK, the leading manufacturer of packaging machines for flexible film applications, has yielded several innovations that deliver hygienic design, modular construction and low cost of ownership (COO) to industrial bakers. These include a patent-pending solution for feeding wafers at high speed, a new fully modular flowrapper and a flowrapper that delivers the flexibility of flowrapping and the shelf-life benefits of thermoforming.
First fully modular flowwrapper.
Unveiled at Interpack, ILAPAK's HFFS Carrera 6000 is the industry's first IP65 rated fully modular flowrapper.
Users of this flexible future-proofing machine will benefit from shorter lead times and lower COO as a result of the Carrera 6000's unique modular design. Users can customise their machine by selecting only the modules they need, and can easily add modules such as film auto-splicing, gusseting, and even a completely new jaw set up, at a later date. The machine's modularity also makes maintenance quicker and easier, as individual sections can be removed rather than having to dismantle the entire machine.
Complete IP65 protection has been achieved through full stainless steel execution, isolating the electrical cabinet from the main machine frame and smooth, angled surfaces without recesses. This ultra-hygienic construction enables full wash down capability, even of the sealing elements.
The Carrera 6000's new jaw and sealing solutions achieve linear speeds of up to 100m/minute. An industrial PC based on a stable and reliable Linux operating system facilitates easy communication via SCADA or a customer's own network, for performance monitoring, data collection, diagnostic and maintenance purposes.
The bakery specification Carrera 6000 is the leading technology for buns, biscuits, flat breads, morning goods, sliced bread, crackers and other typical bakery products, delivering high performance, uptime, hygiene and low maintenance costs
Revolutionary wafer feeding module – focused on our customers core production
The Carrera 6000 can also be fitted with a revolutionary new wafer feeding module.
Historically, the feeding of cream-filled wafers into the flowrapper involved the use of a cross belt feeder in which indexing plates pushed groups of wafers at a 90° angle, short-side leading, into the chain. This method placed limitations on speed and any wafers whose layers were misaligned were prone to breakage.
ILAPAK's innovation team has created an in-line solution in which wafers are delicately lifted without pressure and fed into a chain, long-side leading, without the need for a 90° movement.
This gentle transfer coupled with continuous feeding allows the delicate wafers to be wrapped at speeds of up to 250ppm without the risk of breakage.
Manufacturers are still able to maintain flexibility and have the option of packaging wafers either lengthwise or transversely into the pack.
To meet the specific need of wafer customers ILAPAK has also designed a servo-driven gusseting device to ensure high quality pack presentation for wafers. This gives greater flexibility to match the dimensions of the product more closely than typically found in the market today.
Delta VACMAP® extended to pizzas and tortillas.
In a further HFFS development, ILAPAK's Delta VACMAP® technology, which allows customers the benefit of thermoforming shelf life and the flexibility and premium quality of a pillow pack presentation, is now available to manufacturers of tortillas and pizzas.
This unique modified atmosphere and vacuum technology can extend the shelf life of fresh pizzas and tortillas by up to 28 days – normally only achievable with a thermoforming process. At the same time manufacturers benefit from a more attractive, environmentally friendly packaging format and great production flexibility.
"Consumers prefer flowrap packs to thermoformed trays because they use less packaging material, easy to open and close and give their products a fresh look. Retailers like the fact flowraps occupy less shelf space, cost less and give their product a premium look," said Christian Ballabio, Project Manager at ILAPAK.
The fully automatic Delta VACMAP® machine combines a modified atmosphere system with long dwell wrapper technology. Products are placed in a carousel unit equipped with vacuum chambers. The vacuum process removes any air from inside the product, then a gas flushing cycle replaces the original volume of air with a gas mix. At this point the system returns to atmospheric pressure, opens the chamber and presents the product to the flowrapper. The entire vacuuming, gas flushing and packaging process can be performed at speeds of up to 60ppm.
The modular design of the Delta VACMAP® also gives users the flexibility to run frozen and fresh pizzas on the same line. They can simply disable the carousel unit via an automatic cell selection function to operate the machine at higher speed as a standard flowrapper.
The Delta VACMAP® concept offers a number of advantages over thermoforming: the process is continuous rather than intermittent; size changeovers are easy and fast; and feeding of the product can be carried out by a single operator and the cost of film material is dramatically lower.
VACMAP® 'rolled out' on new vertical applications.
The revolutionary VACMAP® concept has also been extended to ILAPAK's vertical Vegatronic series, for lengthening the shelf life of fresh, pre-baked and par-baked bread rolls.
"With some products like salad leaves and cheese, with Ilapak's standard MAP solutions the shelf-life can be extended simply by reducing the oxygen content. These standard MAP solutions aren't sufficient to guarantee the shelf-life of porous products such as bread rolls, however as oxygen can remain trapped within the product. This is where ILAPAK's VACMAP technology comes into play," said Andrea Boccolini, ILAPAK VFFS Division Product Manager.
The VACMAP® system performs vacuuming and gas flushing in hermetically sealed buckets fully integrated to an Ilapak Vegatronic bagging machine. This VACMAP process can extend the shelf life of fresh bread rolls to 6-8 weeks.
Three side seal pillow packs for tortillas.
A second new addition to the Delta series of HFFS machines is the 3SSC, which opens up new presentation possibilities for tortillas and sandwiches.
Three side seal pillow bags - can now be produced on a horizontal flowrapper with MAP and different types of reclosable zipper. ILAPAK has already installed a number of 3SSC machines for presenting products such as round pittas, squared tortillas and sandwiches in this eye-catching and truly innovative pack style.
This MAP machine with long dwell jaws is fed via a completely lug-less system equipped with a special system to optimise the oxygen level in the final pack. Product is fed onto the film with Ilapak's soft transfer system and reclosable zipper tape is applied to the side of the pack in a continuous process, optimising speed and line efficiency.
The main advantage of this system lies in its flexibility. Users can switch between running packs with and/or without different reclosable zip tapes. In addition the 3SS format means both sides of the pack can be used for marketing purposes without disrupting important branding messages.
"This can be a major benefit to bakers, who often run many different products and have important marketing needs. It means that, for example, 3SS packs of tortillas with a reclosable zipper can be run on the same machine as rolls or buns in standard pillow packs without reclosable zippers," said Christian Ballabio.
Reclosable label technology.
ILAPAK is active in a number of industry sectors, and one advantage of this is that Ilapak technologies can be transferred between different sectors. This knowledge transfer approach has resulted in a number of innovations over the years crossing between these industries, the latest being a reclosable label combined with inline film die-cutting for bakery products.
Reclosable label technology in which a tab pulls a label and breaks a pre-cut made in the film beneath has long been used in the bakery industry on dry products such as biscuits. Now ILAPAK is bringing this technology to bakery products requiring MAP products such as sandwiches, guaranteeing the pack tightness and shelf-life that is requisite for MAP applications.
ILAPAK has made a breakthrough in this area with a new module for its Delta range which it is launching into the sandwich industry. ILAPAK's solution performs the labelling and the die-cutting in-line, in the unwinding section of the film. This not only enables an extremely accurate cut, but also gives users the flexibility to change the shape, position and dimensions of the die-cut and label very easily.
Vertical advancements: Vegatronic.
On the vertical side, ILAPAK's Vegatronic 1600 VFFS for bulk sized bags is the newest addition. With a maximum bag width of 580mm and maximum film width of 1200mm, this 'beautiful giant' is ideal for producing catering bags of rolls. It boasts the highest seal pressure on the market - key for guaranteeing gas tight seals – and is available in vertical or up to 55° angled transfer to minimise the risk of damage to fragile IQF rolls.
Paper carry bag for sandwiches.
Last but not least, ILAPAK has developed a revolutionary flat-bottom bag option for sandwiches, giving manufacturers a cost-effective, automated alternative to expensive pre-made bags.
Making block-bottom bags out of thick packaging substrates is a challenge for VFFS machines, as the thickness of the film makes it difficult to create the folds. ILAPAK has overcome this challenge by equipping its Vegatronic 2000 OF with a sophisticated carousel with servo-driven mechanical cams. This unique flexible system can produce traditional looking bags with a home-made feel, at a fraction of the cost of pre-made bags.