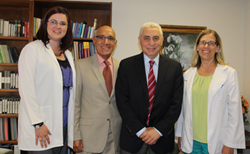 There is still a lot of work to be done in terms of establishing ourselves as a separate entity, but things are going smoothly. We're still practicing here, and patients will still find myself and my staff at IVF Michigan: Rochester Hills & Flint.
Rochester Hills, MI (PRWEB) December 19, 2014
In January of 2014, IVF Michigan: Rochester Hills & Flint became IVF Michigan Division 1, with the practice headed by Dr. Mostafa I. Abuzeid, MD, FACOG, FRCOG. Over the past year, IVF Michigan: Rochester Hills & Flint has provided fertility services to countless individuals who are struggling to conceive. The practice is thrilled to announce that they will be able to continue providing fertility services to the community, based on the remarkable success of the business within the past year.
Dr. Abuzeid takes both a scientific and a personal approach to the problems of infertility: he has experienced the pain that infertility causes as he watched his own sister struggle to conceive, and he has been providing medical services in the fertility field for over 30 years. Although his practice focuses on his patients in Rochester Hills and Flint, Dr. Abuzeid is Board Certified in obstetrics, gynecology, reproductive endocrinology, and infertility in both the U.S. and in Great Britain.
Dr. Abuzeid has dedicated his career to the families and individuals who seek fertility treatments at IVF Michigan: Rochester Hills & Flint. The practice welcomes all patients, and has treatments specifically designed for women under 35 who have been trying to conceive for six to 12 months without success, women with gynecological problems, and men who are dealing with infertility problems.
According to Dr. Abuzeid, the new division that was created last January could not have resulted in a better year, and it has allowed the
practice to provide the same fertility advice and infertility treatments to even more patients.
"The division has been working out quite well so far," Dr. Abuzeid states. "There is still a lot of work to be done in terms of establishing ourselves as a separate entity, but things are going smoothly. We're still practicing here, and patients will still find myself and my staff at IVF Michigan: Rochester Hills & Flint."
About IVF Michigan: Rochester Hills & Flint
IVF Michigan: Rochester Hills & Flint help with all issues relating to infertility, including in-vitro fertilization, tubal surgeries, cyst removal and more. Dr. Abuzeid has 30 years of experience in the field of reproductive endocrinology and infertility. To learn more, visit http://www.michiganinfertilityexpert.com