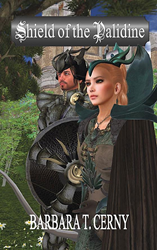 This clever fantasy is not only entertaining, but it also teaches lessons about bigotry and intolerance.
(PRWEB) December 22, 2014
Princess Elise d'Orleans, niece to King Louis XIII, is a spoiled brat used to having everyone cater to her every whim. She hates planet Amorgos, hates the races living there, and hates the fact that everyone believes she is their Redeemer. In other words, she is a royal pain in the derriere!
Elise is supposed to be the One to free them from enslavement of their common enemy, the Asmodai. But more than anything else, Elise hates that the only other human in Amorgos is a stinky peasant named Pierre, who doesn't know to cater to her every whim.
"Shield of the Palidine" chronicles the journey of Elise to find the true Redeemer, as well as Pierre's transformation to a warrior of immense abilities, and their unexpected and unbridled love, despite the reasons that they shouldn't have a happy ending. Above all, this clever fantasy is not only entertaining, but it also teaches lessons about bigotry and intolerance.
Watch the video at: https://www.youtube.com/watch?v=TuKlMoIKnMw
About the Author
Barbara T. Cerny grew up in Grand Junction, Colorado, which at that time was a small town of 30,000 people. She left that little burg to see the world, garner three college degrees, and to serve in the U.S. Army. After eight years on active duty and 14 years in the reserves, she retired as a lieutenant colonel in 2007. While deployed to the Middle East in 2005, she finally figured out she had to get going on the real love of her life, writing. She wrote her first two novels during that time and hasn't stopped. She is presently working on novels number seven, eight, and nine. When not writing, the author works as an information technology specialist and supervisor for the U.S. Air Force. She lives with her loving husband, their two active teenagers, two needy cats, and two turtles. The turtles patiently watch her write and listen to her intently as she discusses plot lines with them.
Track more about the author and her work at http://barbaracernybooks.wordpress.com or on Twitter @cernybt.
Book Details
Genre: Fiction / Fantasy / Historical Romance
Author: Barbara T. Cerny
Format: Hardcover and Paperback, 364 pages
Pub date: August 2014
"SHIELD OF THE PALIDINE" (Hardcover ISBN: 978-1-62212-369-8, $30, Softcover ISBN: 978-1-63135-339-0, $17.50), and eBook are now available and can be ordered through the publisher's website:
http://sbpra.com/BarbaraTCerny, Amazon, or the website of Barnes & Noble.
WHOLESALERS: This book is distributed by Ingram Books and other wholesale distributors. Contact your representative with the ISBN for purchase. Wholesale purchase for retailers, universities, libraries, and other organizations is also available through the publisher; please email bookorder(at)sbpra(dot)net.
Strategic Book Publishing and Rights Co, LLC