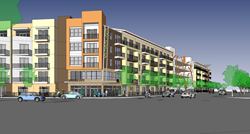 Denver, Colorado (PRWEB) December 22, 2014
Amstar, a Denver-based real estate investment manager acting on behalf of one of its public retirement system clients, announced today the acquisition of a 2.3-acre development site in San Antonio. Amstar and its development partner, Transwestern Development Co., will construct a 229-unit apartment building on the site. The infill development, known as Southtown Flats, will begin earthwork activities in January 2015 with the first units scheduled to deliver in the first quarter of 2016.
Located at 111 Probandt St., Southtown Flats is in close proximity to many of San Antonio's most popular restaurants, bars and shopping destinations. The San Antonio River Hike and Bike Trail, Blue Star Contemporary Art Museum and King William District are all just steps away from the property. Community amenities will include a resort-style pool with outdoor kitchens and cabanas; passive courtyard featuring a yoga lawn, hammocks, game areas and fireplace; secure bicycle storage rooms; roof deck with downtown views, grilling stations, dining areas and fire pits; clubhouse with catering kitchen, dining areas, and resident lounge with flat screen TVs; state-of-the-art fitness center including yoga studio, cardio equipment, free weights and classes provided by FX Fit.
Southtown Flats will be built in two five-story buildings that surround a 4.5-level garage. In addition to stainless steel appliances, each unit will feature quartz countertops, gourmet kitchen islands, custom wood cabinets and private balconies.
"Amstar is thrilled to partner again with Transwestern Development Co. on a Class A multifamily development. San Antonio is still early in its economic recovery and with strong renter demographics, we believe Southtown Flats will be a successful investment," said Amstar Managing Director Daniel Cohen.
"We look forward to breaking ground on this luxury community," said Transwestern Development Co. Associate Vice President Josh Delk. "Southtown Flats will be constructed to the highest quality finishes that San Antonio renters are seeking. The Southtown neighborhood is in high demand because of its rich culture, new restaurants, art galleries and proximity to downtown."
About Amstar
Established in 1987 and headquartered in Denver, Colorado, Amstar is a real estate investment manager that acquires, develops and manages office, multifamily, retail, hotel and industrial properties in select U.S. and international markets. Originally formed to invest and manage the real estate allocation of a large family office client, Amstar began expanding its capital strategy nearly a decade ago and has grown to more than $2.5 billion in assets under management (as of September 30, 2014). Today, Amstar is proud to provide a high degree of focus and attention to its client relationships, counting among them leaders in the private and institutional investment community. Amstar's clients originate from across the globe and include U.S. and European institutions, insurance companies, private banks, funds of funds, and other family offices. For more information, visit http://www.amstar.com.
About Transwestern Development Company
Transwestern Development Company is a diversified business with expertise and experience in all commercial property types. The firm executes projects through a variety of venture and contract structures and has been creating commercial landmarks for itself, its partners and valued customers throughout the U.S. since 1978. Transwestern Development Co. operates as a principal, investing capital alongside its institutional equity partners in the development of speculative and build-to-suit projects, and as a fee developer for clients and user-owners. The company has amassed valuable experience in construction, design, sustainability, leasing, acquisitions, finance and asset management. As a member of the Transwestern family of companies, the firm capitalizes on the market insights and operational expertise of its affiliates, which include a diversified real estate services firm with 34 U.S. offices and a real estate investment management company. Please visit transwesterndevelopment.com for more information.