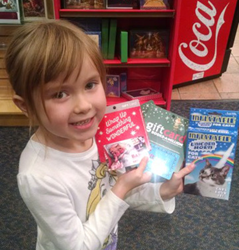 This will definitely go down as the best Christmas on record thanks to Books-A-Million! Ben Schleifer, winner of a $1,000 Books-A-Million shopping spree
Birmingahm, Ala. (PRWEB) December 23, 2014
Two shoppers received a boost in their spending power this holiday season when each won a $1,000 shopping spree courtesy of Books-A-Million. Ben Schleifer and Sara Bancroft were winners of the $1,000 shopping sprees that were given away as part of Books-A-Million's Wrap Up Something Wonderful special event. The event took place Saturday, December 13.
"This shopping spree is going to make it a very merry Christmas!" said Schleifer of Concord, N.H. "My daughter had so much fun during the shopping spree. She picked out a ton of cool stuff for herself and also got gifts for her friends and family! This will definitely go down as the best Christmas on record thanks to Books-A-Million!"
Sara Bancroft won by entering from the 2nd & Charles location in Augusta, Ga. and shared Ben Schleifer's sentiments.
"I am overwhelmed and so very grateful to win the $1,000 shopping spree from 2nd & Charles and Books-a-Million," said Bancroft. "To be the winner of such an amazing giveaway from such an incredible company is very exciting!"
In addition to these shopping spree giveaways, Books-A-Million and its customers have shown their holiday spirit by raising money for The Salvation Army and supported U.S. troops with the Coffee for the Troops campaign.
Books-A-Million has awarded customers with giveaways, prizes and special events this holiday season through its Wrap Up Something Wonderful promotion. Adding this promotion to Books-A-Million's extensive lineup of books, toys, and technology has made it the leading destination for shoppers this holiday season.
ABOUT BOOKS-A-MILLION
Books-A-Million, Inc. is one of the nation's leading book retailers and sells on the Internet at http://www.booksamillion.com. The Company presently operates 262 stores in 34 states and the District of Columbia.
The Company operates large superstores under the names Books-A-Million (BAM!), Books & Co, 2nd & Charles, and traditional bookstores operating under the names Bookland and Books-A-Million. Also included in the Company's retail operation is Yogurt Mountain Holding, LLC, a retailer and franchisor of self-serve frozen yogurt stores with 44 locations. The Company also develops and manages commercial real estate investments through its subsidiary, Preferred Growth Properties, which presently includes four retail shopping centers.
The common stock of Books-A-Million Inc. is traded on the NASDAQ Global Select Market under the symbol BAMM. For more information, visit the Company's corporate website at http://www.booksamillioninc.com.
Follow Books-A-Million on Twitter (http://twitter.com/booksamillion)