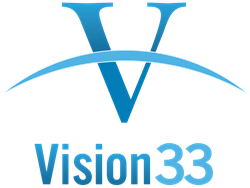 We see the potential in empowering our business with SAP Business One, we're getting our information organized and are able to plan ahead.
Chicago, IL (PRWEB) January 14, 2015
Vision33 (http://www.vision33.com), a leading SAP gold channel partner, today highlighted the implementation of an enterprise resource planning (ERP) solution in partnership with CandyRific (http://www.candyrific.com). The solution includes the SAP Business One® application, implementation and training services, and Vision33's renowned TOTAL Care support program.
Based in Louisville, Kentucky, CandyRific owes its continued success in part to licensing some of the best-known brands in the world, including: M&M's, Snickers, Skittles, Star Wars, and Disney DreamWorks, among others. With SAP Business One, CandyRific has gained insight into the performance of these licenses to help with long-term strategic planning. "Just the fact that we're looking at budgeting and forecasting means that we've come a long way. Now that we see the potential in empowering our business with SAP Business One, we're getting our information organized and are able to plan ahead," said Angie Bartley, Accounting Manager, CandyRific.
As a leading designer and manufacturer of novelty confectionery, CandyRific offers exciting products with unique features to major retailers in the US and distributors in almost every major market in the world. With SAP Business One, CandyRific can pull specific queries and customize reports to obtain real-time information about its sales performance.
According to Steve Rafac, General Manager, Vision33 Midwest region, CandyRific recognized that selecting SAP Business One was only half the equation. The company also needed a local partner that understood its business needs and growth objectives. "Vision33 consultants are there for the customer, not just for the initial point of contact but also well beyond the implementation phase," he said. "Growth-focused companies like CandyRific have come to rely on Vision33 consultants' expertise with SAP Business One to ensure that they fully leverage the benefit of their investment in ERP software."
About Vision33
Vision33, Inc. (http://www.vision33.com) is a leading enterprise resource planning (ERP) solutions provider, focused on providing the SAP Business One solution for growing businesses and subsidiaries of large enterprises. Through offices located across North America, Vision33 provides the right balance of software, world-class consulting and support services for customers to better manage and grow their business.
As an SAP gold channel partner, Vision33 has more than 600 customers and is consistently honored for its notable growth and dedication. Vision33's recent accolades include the 2013 Inc. 500|5000 in Inc. magazine's list of fastest-growing private companies in America; CRN's Fast Growth 150, an annual ranking of the fastest-growing business and technology integrators, solution providers, resellers and IT consultants in North America; and the VAR 100 list that recognizes the top-tier accounting and ERP software resellers in the country. Additionally, Vision33 has also earned titles and awards such as the SAP North America Partner Excellence Award 2013: Top Channel Partner – SAP Business One; SAP Business One Partner of the Year, U.S., in 2012; Accounting Today's Top VAR 100 List; and INC500/5000 fastest-growing company lists. It was recognized as a finalist for a 2012 SAP Pinnacle Award in the category "SAP PartnerEdge® Global Fastest-Growing Reselling Partner of Year."
Vision33 is a member of the Group zed family of companies. With roots dating to 1992, Group zed (http://www.gzed.com) is a privately owned and operated corporation, which provides its family of industry-leading companies with the strategic vision and tools to deliver on the promise of technology to customers, setting them apart from other industry peers.
About CandyRific LLC
CandyRific is a novelty confectionary candy manufacturer and wholesaler with offices and other facilities through the U.S. and Hong Kong. CandyRific creates and manufactures a range of products in overseas facilities and distributes through a national broker network, managed by the CandyRific sales staff. With many licenses with some of the best-known brands in the world, CandyRific has appeared on the Inc. 500 and Inc. 5000 lists of the fastest-growing companies in the U.S. consecutively the last five years. It is also ranked on the 2013 Business First list of the Louisville area's 50 fastest-growing private businesses.
###
SAP, SAP Business One, ByDesign, PartnerEdge and other SAP products and services mentioned herein as well as their respective logos are trademarks or registered trademarks of SAP SE (or an SAP affiliate company) in Germany and other countries. See http://www.sap.com/corporate-en/legal/copyright/index.epx for additional trademark information and notices. All other product and service names mentioned are the trademarks of their respective companies.
MEDIA CONTACT: Sarah Coish +1 (949) 420-3000, sarah(dot)coish(at)gzed(dot)com