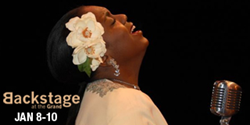 Salt Lake City, Utah (PRWEB) December 29, 2014
Fans of Billie "Lady Day" Holiday and Ella "First Lady of Song" Fitzgerald will delight in a live performance of their classic songs by Dee-Dee Darby-Duffin at Salt Lake Community College's Grand Theatre.
Darby-Duffin's "To Billie & Ella With Love" runs January 8-10 at 7:30 p.m. each night as part of the Grand Theatre's Backstage at the Grand concert series. One critic's review of Darby-Duffin's interpretation of Holiday's songs called the show a "consummate performance" and her singing "remarkable."
The Backstage concerts feature an intimate seating arrangement on stage around the performers. For ticket information call 801-957-3322 or visit http://www.the-grand.org/events/backstage. The final Backstage concert will feature the duo joy&eric January 15-17 doing covers of modern acoustic pop songs.
The Grand Theatre is a 1,100-seat venue located at Salt Lake Community College's historic South City Campus, home of the innovative and state-of-the-industry Center for Arts and Media at 1575 South State Street in Salt Lake City. The Grand Theatre was chosen by Sundance Institute to be a screening venue during the 2015 Film Festival. The Grand dates back to the 1930s when it was part of South High School, which SLCC purchased in 1989, a year after the school closed. The theatre began offering productions that year and has since with great care and expense retained its Depression-era charm and attraction while also incorporating the latest technology in lighting and sound. Every season the Grand is host to award-winning theatre and dance productions and concerts that attract arts enthusiasts from all along the Wasatch Front. Students and faculty in the arts at SLCC's South City Campus now enjoy and, as a result, excel from having access to the Grand's nostalgic look and feel and the Center for Arts and Media all in one place.