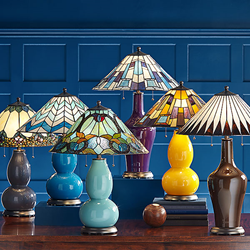 We've essentially married beautiful Tiffany lamp shades to a selection of coordinating bases from our Color + Plus™ custom lighting collection.
Los Angeles, California (PRWEB) December 29, 2014
Lamps Plus introduces the new Tiffany Color + Plus line of made-to-order table lamps, pairing handcrafted Tiffany-style art glass shades with custom colored glass lamp bases. "With our new Tiffany Color Plus lighting collection, we're giving consumers a bright, bold new twist on the classic Tiffany style," explains Manja Swanson, Chief Creative Officer at Lamps Plus. "We've essentially married beautiful Tiffany lamp shades to a selection of coordinating bases from our Color + Plus™ custom lighting collection."
The Tiffany Color Plus line may be new, but the style that inspired it has a rich heritage. Since first being introduced by Louis Comfort Tiffany in the late 1800s, Tiffany glass shades have long been favored for their beautiful craftsmanship. However, most lamp bases on the market are made from cast metal, often with dull or antiqued bronze finishes. Lamps Plus' new Tiffany Color Plus collection offers a dramatic alternative, letting consumers choose from a variety of modernized glass bases in fresh, vibrant colors that complement the lamp shade of their choice.
For the Tiffany Color Plus collection, each lamp shade features a colorful arrangement of hand-cut glass that is assembled by artisans using the traditional copper foil technique. Due to their handcrafted nature, no two shades are exactly alike and slight variations in coloring may occur. These artisan shades are then paired with a selection of color-coordinated Color Plus glass bases, custom-colored to order in the company's California workshops. In total, the Tiffany Color Plus line currently features 71 shade and base combinations, with more stunning options in the pipeline.
This exquisite new collection is just the latest in an ongoing cycle of product innovation that Lamps Plus has led in recent years. "From our multi-light pendants and shade chandeliers to Color Plus and Art Shade custom lighting, Lamps Plus has been at the leading edge of a trend toward personalization and customization that has taken root in the interior design community," concludes Swanson. "We're excited about the new Tiffany Color Plus and its potential to reinvigorate a classic and treasured lighting style."
About Lamps Plus
For more than 30 years, Lamps Plus has been synonymous with excellence in the retail lighting industry. Established in 1976, Lamps Plus is the nation's largest specialty lighting store, with dozens of locations throughout the western United States. LampsPlus.com was named a 2014 Top 10 Housewares/Home Furnishings e-tailer and a 2013 "Hot 100" world's best retail website by Internet Retailer Magazine. Together with its retail locations, the company serves customers nationwide with the largest selection of functional and decorative lighting fixtures, accessories, furniture and home decor. This selection includes hundreds of products, ranging from traditional chandeliers to the latest in home decor, available exclusively from Lamps Plus. The company also holds several patents for innovative lighting. Services offered include in-home lighting consultations, in-store workshops and installation from expert licensed electricians. American Lighting Association certified designers are available to offer product recommendations and advice in all our stores, by phone or online at LampsPlus.com. The Lamps Plus family of websites also includes 55 Downing Street and Lamps Plus Open Box. Visit the official Lamps Plus website: LampsPlus.com.