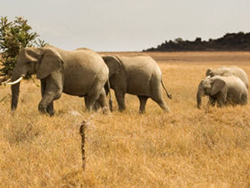 "Watch this space Mickey, families are only going to get even more adventurous!"
Brighton & Hove, East Sussex (PRWEB UK) 23 December 2014
Does the thought of another two week holiday on an all-inclusive package surrounded by English accents fill you with dread? You're not alone! Responsible Travel offers insight on some of the best alternative family holidays for 2015 that offer real opportunities for adventure and discovery.
Managing director Justin Francis, says "Perhaps with the exception of Christmas, holidays are usually our highlight of the year, a time for fun, relaxing and spending quality time with family, and yet come Boxing Day we will be hit by a barrage of adverts all promising the same fly and flop 'fun'.
"Many people will play it safe and follow the ads and the masses to theme parks and on all-inclusive package deals but we know there is a growing demand from families seeking holidays with more substance; holidays that offer real experiences with real people. They don't want to compromise on excitement or comfort but are keen to escape the manufactured lands, full of plastic and fakery. Watch this space Mickey, families are only going to get even more adventurous!"
Responsibletravel.com's top 10 family holidays booked in January 2014 were:
1. Granada Activity holiday
2. Activity holiday in Montenegro
3. Sea kayaking in Croatia
4. Cycling in Catalonia
5. Family scuba holiday in the Red Sea
6. Kerala backwater holiday
7. Self drive Cuba holiday
8. Wildlife sailing holiday in Scotland
9. Family adventure to Burma
10. Family adventure to Jordan
Take Responsible Travels advice for 2015 and find out how easy it is to not follow the crowd but still have an exciting family holiday. Our top tips to avoid the fakery and still have fun:
1. Go wildlife watching in South Africa
Children are as programmed to want to go to Disney World as we are to want to go to the pub after work on a Friday, and though Disney's Animal Kingdom may try its best to immerse visitors into an African 'theme', why go and see animals in a faux-safari when it's just as easy to see them in Africa proper. 'But what about malaria?' we hear you cry. Don't let the prospect of taking antimalarial medication put you off a family trip to Africa and don't be fooled into thinking Disney's Animal Kingdom is the only alternative either - step in South Africa: a safari destination that seems to have been designed for families, with an incredible wildlife and where it's possible to go on safari without all the pill-popping and mosquito nets. Much of the country is malaria free, with a low risk only in Kruger.
2. Explore Indiana Jones' Jordan
In pursuit of fortune, glory and historical fact finding, archaeologist Indiana Jones engaged in daredevil adventure across the globe - does this scream theme park to you? Thought not. Now, we're no Disney bashers (said us, never), but we do think that recreating the spirit of Indi's adventures requires a little more authenticity than a VIP queue jump on a first-come-first-served basis. Scrap Disneyland's Indiana Jones Adventure and go on a real one in Petra; hand-carved into sandstone cliff, the Treasury at the Jordanian ancient site is the mind-blowing secret temple in Indi's Last Crusade. Besides that, Petra, Jordan's 'rose-red city', is utterly fascinating and one of the New Seven Wonders of the World. Sure to get young minds far more switched on that a four-pint cup of cola would.
3. Experience Spain beyond Benidorm
There is no greater love affair than that between the Brits and Benidorm, a sad fact really and one where the phrase 'to each their own' has never applied more vehemently. There's nothing wrong with a fly and flop family holiday in the sun of course, and what kid doesn't like a bit of bucket and spade action, but venture beyond the Costas and Spain is a fascinating country that's far greater than the sum of it's warm-weather parts. There's the sun-scorched Moorish cities of Andalucía to explore, or the beautiful beaches and green hills of Galicia, not to mention cliffs, caves, mountains and plains where you can hike, bike and canyon together. Try whitewater rafting on the rivers of the Pyrenees, kayaking around the turquoise lakes of the Andalucian Altiplano or even hiking in the breathtaking Picos de Europa, a frequently snow-draped limestone massif - enough to keep kids of any age and their parents occupied.
4. Croatian charm that won't break the bank
Think half term, think Center Parcs, an obvious and excruciatingly expensive option for a short family break. Yes, it has subtropical swimming pools, forests, and its supposed trump card - a UK location, but for a truly authentic alternative that brings you every conceivable outdoor activity in two hours' flying time and, hallelujah, has a year round climate, so you won't get financially fleeced to flock there only when the sun shines, consider Croatia. For water babies, the amiable archipelago is a constant stream of aqua adventures - the Plitvice Lakes National Park alone is home to 16 lakes and a host of tumbling waterfalls; for families who like their adrenalin served thick and fast, why not spend an action packed week sea kayaking, biking and hiking around the Dubrovnik region. The options are endless. (And there's no Café Rouge.)
5. There's more to Finland than Father Christmas
Now call us old fashioned, but we were under the impression that there was a lot more to Finland than flying there and back in one day to visit a former nuclear bunker and queue to see a man impersonating Father Christmas (because of course he's very real and also very busy in his workshop at the mo.) Doubtless an experience about as memorable as yet another overpriced toastie at Center Parcs. Here's an idea, why not go to Finland, see the fat man dressed in red if you like, but stay for longer than a day? That way you can take your time and waste not one drop of its splintered archipelagos, 188,000 lakes, back to basics nature and seriously characterful locals, not least miss out on a husky safari, which is an experience akin to a great big snowy bubble of adrenalin-charged happiness. Remember, a Finnish holiday is for life, not just for Christmas.
For more advice and help in planning your next holiday contact our team of experts on 01273 823700 or on rosy@responsibletravel.com
Responsibletravel.com offers over 1300 family holidays. Find out more at http://www.responsibletravel.com/holidays/family

________________________________________
Notes to editors:
About responsibletravel.com
responsibletravel.com is the world's leading online travel agent for responsible holidays and a pioneer of responsible tourism. Started in 2001 with backing from Dame Anita Roddick of The Body Shop the site's mantra is 'travel like a local'. It sells holidays that are about more than just a brief stay somewhere - instead it is travel that offers a real connection with the people, the landscape, the culture, the food and the environment. It offers over 7,500 responsible holidays from over 3,000 holiday providers which all support communities and conservation. Handpicked local specialists provide authentic holidays for those seeking adventure, cultural or active experiences worldwide in destinations as diverse as Ethiopia - http://www.responsibletravel.com/holidays/ethiopia, Andalucia - http://www.responsibletravel.com/holidays/andalucia, and the USA - http://www.responsibletravel.com/holidays/usa.
In addition responsibletravel.com:

is quickly becoming the leading online publisher of responsible tourism content with an expanding portfolio of 130 travel guides by February 2015.
founded and organises The World Responsible Tourism Awards, celebrating 11 years at World Travel Market this year.
campaigns for positive change in the travel and tourism industry.
CEO Justin Francis has been included in Courvoisiers The Future 500, Thames and Hudsons 60 Innovators Shaping Our Creative Future and taken his place on the Advisory Board of The International Centre for Responsible Tourism at Manchester Metropolitan University.
The company is based in Brighton's North Laine district, England.
Contact:
Sarah Bareham
press@responsibletravel.com
01273 829 269 (UK)
responsibletravel.com Ltd is a company registered in England and Wales with the company number 03902313 at First Floor, Edge House, 42 Bond Street, Brighton, Sussex, BN1 1RD, UK.