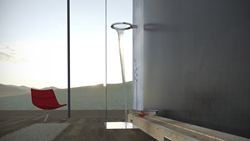 Milwaukee (PRWEB) December 26, 2014
GRAFF®, a leading manufacturer of precision-engineered contemporary products for the bath and kitchen, announced today that its Ametis Ring has won Interior Design's Best of Year Award in the bath fixtures category. The 9th annual Best of Year Awards ceremony took place on Dec. 4, 2014 at Frank Gehry's IAC Building in New York.
The initial online voting process – comprised of industry-leading architects and designers – took place in October. With more than 2,000 submissions received, Cindy Allen, editor-in-chief of Interior Design, and a jury of renowned design leaders, chose the final winners.
"Interior Design magazine is one of the premier authority figures on design, and we are thrilled to have been recognized for such a prestigious award," says Ziggy Kulig, president and CEO of GRAFF. "The Ametis Ring's advanced ingenuity and cutting-edge design speaks volumes relative to where the bathroom industry is headed in 2015."
The Ametis Ring, symbolizing the fusion between the universe above and the oceans below, is a futuristic "ode" to high design in the bathroom. Designed by Davide Oppizzi, the Ametis Ring's circular shape and cutting-edge design blend harmoniously to invigorate not only the body but also the eye with finishes of polished chrome, architectural black™ and architectural white. Drawing inspiration from experiences that combine the density of water and its colors, the movement of waves, and the practice of exquisite Japanese writing, produced with only a brush gesture – this stunning piece transforms water, such a precious matter, into a hymn to purity, one that enables you to move closer to the expression of the soul.
The Ametis Ring contains many high-tech engineering features and integrates a 6-color full-spectrum chromotherapy system using LED lighting. The LED lighting is positioned within the shower ring to add a new dimension, thanks to the indirect lighting - still a seldom used concept in bathroom design. This creates a soothing halo effect for the desired ambiance. With LED lights reflecting off the ceiling, the Ametis Ring includes a 6-color LED controller, which allows the user to choose their mood or "chroma." The color green can induce healing, yellow for hope and optimism, blue for serenity and red for joy.
The Ametis Ring features two water functions allowing the user to effortlessly switch between a rain and waterfall setting. Inspired by the idea that life is a cycle, water coming out of the ring is an inexorable source, by flowing down it becomes inescapably intimate and goes beyond any obstacle.
The Ametis Ring is created using superior design techniques and innovative technology to support the philosophy that chromotherapy can lead to a good night's sleep, more positive outlook on life and complete feeling of tranquility.
For more information about GRAFF, visit http://www.graff-faucets.com.
About GRAFF
Headquartered in Milwaukee, Wis., and with locations throughout Europe, GRAFF is recognized globally for its trend-setting products and unique vision. Supported since 1922 by extensive plumbing and hardware manufacturing experience, GRAFF offers a wide range of contemporary, transitional and traditional styling. GRAFF's commitment to creating cutting-edge, premium-quality fixtures is evident in each and every product. GRAFF employs more than 1,000 dedicated professionals and has control over the full production process, making it truly a vertically integrated manufacturer.
###