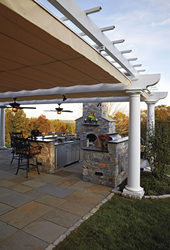 Wallingford, CT (PRWEB) December 26, 2014
Danver Stainless Outdoor Kitchens, the nation's premier stainless outdoor kitchen manufacturer, and Walpole Outdoors, a leading manufacturer and distributor of distinctive architectural landscape products and structures, today announced they are leveraging their unique capabilities to create outdoor kitchen coverings designed to promote backyard living year-round. According to Garden Media Group's 2015 Garden Trends Report, consumers are expanding their outdoor spaces for perennial use, thus the need for high-quality outdoor kitchen coverings is imperative.
Walpole Outdoors' new pavilions—set to be introduced at the 2015 International Builders' Show / Kitchen and Bath Industry Show, Jan. 20-22, 2015—and shade pergolas, will provide full coverage for Danver's stainless steel outdoor kitchens.
These specialized environments will be constructed from Walpole Outdoors' signature material, cellular PVC, which is low-maintenance, and has the same look and feel as real wood, but will not rot, warp or split. Walpole Outdoors' pergola and pavilions feature robust, classically proportioned beams, joists and laths. The combination of the aesthetics and functionality ensures longevity and beauty.
Walpole Outdoors' pergolas, and soon-to-be-launched pavilions, are available in more than 100 PVC-safe paint colors from Sherwin-Williams®, to perfectly complement Danver's selection of powder-coat finishes for its stainless steel cabinets.
"Walpole Outdoors' shade pergolas and pavilions add style and elegance to bring any home exterior to new levels of year-round enjoyment," says Lou Maglio, president of Walpole Outdoors. "Homeowners will also have peace of mind for years to come because our shade pergolas and pavilions provide outdoor living spaces with shade and protection from inclement weather. This is becoming more important to consumers as the trend is to accessorize their outdoor spaces with fully functioning kitchens, lighting, fans, and electronics from music to TVs."
Danver's outdoor cabinets are manufactured from high-quality, durable stainless steel, and are available with custom door styles in exclusive designer colors, creating a fully-functional, signature outdoor kitchen. The powder coat colors and realistic wood grain-style finishes allow builders, remodelers, architects, landscape architects, and design professionals the freedom to create unique backyard havens.
"Outdoor cooking areas have transitioned from mere barbecue islands to more formal outdoor entertaining and living areas," says Mitch Slater, president and founder of Danver Stainless Outdoor Kitchens. "Danver's distribution relationship with Walpole Outdoors offers customers a comprehensive package, fulfilling their need to create spaces with the same design characteristics as the indoors."
To obtain additional information about the outdoor kitchen coverings, visit http://www.danver.com and http://www.walpolewoodworkers.com.
About Danver Stainless Outdoor Kitchens
Headquartered in Wallingford, Conn., Danver Stainless Outdoor Kitchens is the leading manufacturer of stainless steel outdoor cabinetry designed to fit most outdoor appliances including grills, bartending centers and refrigerators. With exclusive door styles and powder coated finishes in designer colors, Danver cabinets are virtually maintenance-free in all climates and weather conditions. Danver also offers American-made stainless steel appliances designed to maximize enjoyable outdoor entertainment. For more information on Danver Stainless Outdoor Kitchens, please visit http://www.danver.com.
About Walpole Outdoors
Established in 1933, the Walpole, Mass.-based company manufactures and distributes distinctive, architectural landscape products and structures that extend the comforts of your home. Its manufactured products include a broad range of cellular PVC and Northern White Cedar products. The extensive line of Walpole Outdoors® products includes fences, gates, pergolas, railings, arbors, exterior home and garden décor, wooden play sets and much, much more. With over 80 years of delivering beautiful outdoor environments through superior craftsmanship and service. For more information, visit http://www.walpolewoodworkers.com.