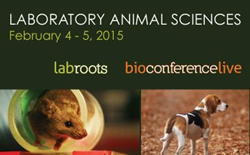 Yorba Linda, CA (PRWEB) December 23, 2014
LabRoots, Inc. is offering its annual, two-day international, virtual Laboratory Animal Science (LAS) BioConference Live, February 4-5, 2015. This is the premier online-only conference focused on laboratory animal science. Its theme is "Laboratory Animal Science in the 21st Century; Animal Welfare and Reduction of Confounding Factors in Preclinical Research." Participants can choose from the following tracks:

Training personnel and competency assessment
Biosafety and Biosecurity
Aquatics
Transportation
LAS BioConference Live will bring together scientists, students, veterinary technicians, veterinarians, technical support staff, IACUC administrators and committee members, as well as training and compliance personnel from around the world, to learn about recent advances on the science of animal well-being, housing, enrichment and biomethodology. Never before has such a diverse group of experts been able to participate in one, groundbreaking conference, which is absolutely free to all participants. Free to register and attend, there are no crowded airports, delayed flights or expensive hotel rooms, but still the look and feel of a first-rate conference with world renowned experts.
Conference participants will be able to:
Search and attend session(s) of their choice
Ask questions of the speakers via live video
Chat live with peers
Receive continuing education credits
Browse a virtual exhibit floor for solution providers
Paul Flecknell, PhD, Professor/Director, Comparative Biology Centre, The Medical School, University of Newcastle
Marcel Perret-Gentil, DVM, MS, University Veterinarian, Director, Laboratory Animal Resources Center, UTSA
James R. Swearengen, DVM, Comparative Medicine Veterinarian, National Biodefense Analysis and Countermeasures Center
Szczepan Baran, VMD, MS, Novartis
Paula Clifford, MLA, RLATG, CVT, VP Operations, Animal Care Training Services (ACTS)
Javier Guillen, DVM, Senior Director, Assoc for Assessment and Accreditation of Laboratory Animal Care International
Pilar Ariza Guzman, DVM, MS, Senior Scientist, Program Director of the Phenotyping Cores, University of Minnesota
Andrew H Ide, BS, President, Kent Scientific Corp
Angela Kerton, B.VetMed Cert LAS MRCVS, Head of Veterinary Services and CBS Training Unit, Imperial College London
Christian Lawrence, MS, Manager, Zebrafish Core, Center of Excellence in Molecular Hematology
Andrea Leisewitz, PhD, Research Ethics Officer, Pontificia Universidad Católica de Chile
Roberto Riquelme Neira, Veterinary Medicine, M.Sc., Faculty of Veterinary Medicine, Autonomous University of Barcelona
Cholawat Pacharinsak DVM, MS, PhD, DACVAA, Assistant Professor, Stanford University
Cynthia A. Pekow, DVM, Clinical Associate Professor, Department of Comparative Medicine, University of Washington
Dan Rothen, DVM, Research Assistant Professor of Surgery, University of Miami
Marina Snitcofsky, DVM, MSc, PhD, Adjunct Professor, Universidad of Salvador
Ted Wasky, Global Chief of Security and Safety, Harlan Laboratories
Last year, more than 20,000 people participated in the 3rd Laboratory Animal Science BioConference Live that included 59 speakers and 35 exhibitors, from 45 countries. LabRoots expects attendance of BioConference Live to continue to grow as the world's scientific community continues to come together each year to share advances in laboratory animal medicine. Participants at the 2014 conference praised the relevant lecture topics, world-class speakers, ability to connect with the global LAS community, flexibility and convenience of attending online and ability to learn ethical and behavioral aspects of animal research.
The 2015 conference will be submitted for approval by the American Association of Veterinary State Boards for Continuing Education for veterinarians and veterinary technicians to receive CE credits and will also meet AALAS and CALAS continuing education criteria. Anyone interested in laboratory animal science should sign up today, for free, at http://www.bioconferencelive.com to take advantage of live streaming sessions by industry leaders, networking with peers and exploration of the virtual exhibit floor showcasing the state-of-the-art in life science and medical technologies.