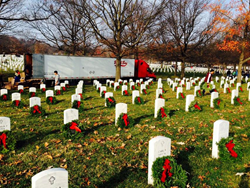 Rosemount, MN (PRWEB) December 29, 2014
For the third straight year, Bay & Bay Transportation recently donated its time and resources to Wreaths Across America. Bay & Bay helped deliver over 300,000 wreaths to grave sites of fallen soldiers and military personnel across the United States.
Bay & Bay driver Julia Jimenez delivered a load of wreaths from a warehouse in Maine to Arlington National Cemetery in Arlington, VA. Additionally, driver Greg Post picked up a load in Illinois and delivered to several cemeteries in WI, MN and SD, including Ft. Snelling in Minneapolis.
"I would personally like to thank those who have given their time to honor our fine men and women serving around the world to protect our freedoms," said Sam Anderson, President & CEO of Bay & Bay Transportation. "Let's never forget about these special people who unselfishly serve away from their families, often during the holidays. I also would like to thank those of you that have served or are currently serving in a branch of our Military. Your sacrifices do not go unnoticed."
Wreaths Across America is a non-profit organization whose mission is carried out in part by coordinating wreath laying ceremonies in December at Arlington National as well as other veteran's cemeteries in the United States. For more information, please visit their website http://www.wreathsacrossamerica.org.