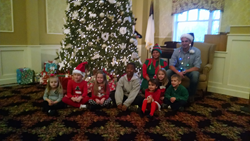 The best part of this project was being able to watch the joy in the children's eyes as they opened their gifts.
Newton, North Carolina (PRWEB) December 25, 2014
Residents at Abernethy Laurels, a North Carolina Retirement Community, recently showed their generous spirit by providing holiday gifts to boys and girls of the Catawba County Parenting Network- Grandparents Raising Grandchildren program.
Following a kid-friendly meal, the 10 children gathered around the largest Christmas tree on the campus of the retirement community to open presents purchased by residents of the Abernethy Village Association (AVA). Each holiday season the AVA seeks opportunities to help local families and organizations in need. Earlier this month they donated over 500lbs of food to the Corner Table, a local soup kitchen.
"When the idea of helping local children came up, it touched a soft spot in the hearts of many," said Melva Cooper, an Abernethy Laurels resident. "The best part of this project was being able to watch the joy in the children's eyes as they opened their gifts."
Each child was handed gifts by Abernethy Laurels staff who donned Santa hats, reindeer antlers, and elf costumes. In addition to the sounds of paper ripping, the excited squeals of the children filled the room as they opened dolls, clothes, balls, trains, and their favorite character themed items. The grandparents of these children were also smiling. "Abernethy Laurels staff and residents wanted to provide these children with gifts that would make their Christmas a little brighter. Our goal was to assist the grandparents in giving their grandchildren a memorable holiday experience," stated Greg Rossidivito, Abernethy Laurels Director of Life Enrichment and Catawba County Parenting Network board member. "From the smiles on everyone's face, I believe we accomplished our goal."
Abernethy Laurels, a not-for-profit retirement community in Newton, NC takes pride in its history and tradition of excellence. While the community offers a wide range of first-rate amenities, it is surprisingly affordable. For more information, visit http://www.abernethylaurels.org or call toll free 877-637-7941 or 828-465-8519.