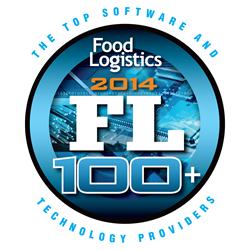 We have built our business around the food and beverage industries.
Oakdale, MN (PRWEB) December 29, 2014
Supply Chain Services, a leading supplier of data collection solutions for the warehouse, distribution and logistics markets today announced it has been awarded as a winner of the Food Logistics Top 100 list of software and technology providers. Food Logistics is the only publication dedicated to the global food and beverage supply chain.
Supply Chain Services has extensive experience and specialization providing technology solutions – barcoding and data collection – to the food and beverage industries. In fact, food and beverage are the company's largest segments of customers. With a portfolio of some of the largest food and beverage companies in the world, support and success in the industries are the primary influences in being awarded this honor.
"The impact of software and technology on the global food supply chain is truly profound," emphasizes Lara L. Sowinski, Editor-in-Chief at Food Logistics. "Software solution providers, equipment manufacturers and numerous technology innovations are supporting growth in our industry while concurrently lowering operating costs, improving productivity and enhancing visibility from farm to fork."
"We have built our business around understanding the automatic identification and data collection (AIDC) need of the food and beverage industries," said Chip Emery, CEO of Supply Chain Services. "From farming, to manufacturing, packaging, warehousing, retail, transportation and delivery, to the entire food and beverage supply chains, it has been a rewarding and satisfying journey. Food and beverage companies face slim margins and our solutions directly address this challenge by reducing costs and improving productivity."
The FL100+ list is featured in the November/December 2014 issue of Food Logistics, as well as online at http://www.foodlogistics.com.
About Supply Chain Services
Supply Chain Services is a full service provider of barcode systems with IT support services to design and implement data collection solutions. The company specializes in designing and implementing rugged mobile computer, barcode scanner, barcode printer, and wireless networks to support supply chain processes within warehousing, distribution, manufacturing, and logistics organizations. Supply Chain Services is located in Oakdale, Minnesota and has over 2000 customers across North America. For more information, visit http://www.supplychainservices.com.