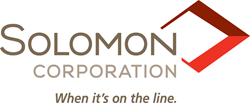 This has been a massive project in creating the processes, procedures, and a quality team to ensure compliance for the accreditation
Georgetown, Texas (PRWEB) December 26, 2014
On December 10th, Solomon Corporation, a leading provider of repair, rebuild, and salvage services for electrical transformers and related equipment, announced that their laboratory in Georgetown, Texas had received NELAP accreditation, allowing the facility to perform PCB testing and accept testing samples from outside of their member co-ops, as well as perform testing for neighboring states.
"Today we received our NELAP accreditation for the Georgetown Laboratory," said Mike Dahl, Corporate Environmental Health & Safety Manager. "This is a huge milestone. Besides the obvious benefit of an accreditation earned only through consistent analytical quality and performance, it allows the Georgetown, Texas facility to perform PCB testing in all participating states. This will allow us to better level load our lab capacities between all three labs and expand Georgetown's ability to perform work for neighboring states."
NELAP—which stands for National Environmental Laboratory Accreditation Program—is a program for the accreditation of environmental laboratories, representing the best professional practices in the industry. The accreditation will allow Solomon Corporation to send sample influx to the Georgetown facility and distribute work more evenly across various labs.
The accreditation is the result of a year-long effort by Georgetown Lab Director Lisa Elliot, with the assistance of lab technicians Monica Selvera and Leroy Williams. "We've been running the Georgetown lab remotely for a number of years," Bob Baird, Lab Director at Solomon Corporation said. "Lisa took over the lab after moving to Texas and her first assignment was to get accredited. I am absolutely proud of her and happy she'll be staying down there to oversee the growth and development of that lab."
Eight years ago, Solomon Corporation and the Texas Electric Cooperative (TEC) created a partnership to work together to better serve the cooperatives of Texas. They invested heavily in the facility, which employs just under 100 people. While there has always been an on-site lab at the Georgetown facility, the NELAP accreditation means that it can now accept testing samples from outside their member co-ops of electrical utilities.
"This has been a massive project in creating the processes, procedures, and a quality team to ensure compliance for the accreditation," said Lisa Elliot, Lab Director at the Georgetown facility. When she relocated to the Georgetown lab from her prior position at the lab in Solomon, Kansas, getting the lab up to the standards of accreditation was her primary assignment. It required the implementation of new SOPs and quality assurance plans, including substantial training and documentation. Solomon Corporation also added additional staff to the facility in order to maintain the level of quality they needed to provide.
Accreditation is given after an on-site lab audit by the Texas Commission on Environmental Quality, and the Georgetown facility will continue ongoing testing to maintain blind QC studies twice a year, as well as bi-annual audits from the state. The next step for the Georgetown lab is to start bringing in external customer samples in order to leverage their new capacity. Solomon Corporation is also planning to send some work from the Solomon, Kansas lab down to Georgetown in order to free up capacity at the Solomon location and improve their ability to process untested units.
About Solomon Corporation:
Solomon Corporation is a leading provider of repair, rebuild, and salvage services for electrical transformers and related oil-filled equipment. Founded in 1971, the company serves investor-owned, municipal and cooperative utilities, as well as industrial owners of electrical equipment throughout the United States. Solomon Corporation's market leadership is driven by its scale, breadth of services, long-standing customer relationships, and consistent track record of dependable service. Solomon Corporation employs approximately 530 people and operates facilities in four states.
For more information about Solomon Corporation, please visit the Solomon Corporation website at http://www.solomoncorp.com or call (800) 234-2867 to speak with a representative.