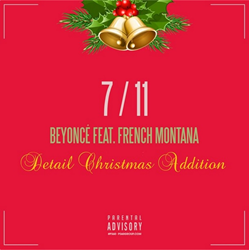 Los Angeles, CA (PRWEB) December 27, 2014
Super producer Detail gave music fans a big gift on Christmas Day with the release of his remix to Beyoncé and French Montana's smash hit "7/11". Detail is nominated for seven Grammy awards in February and has produced several chart-topping tracks including: "I Luh Ya Papi" by Jennifer Lopez, "We Dem Boyz" by Wiz Khalifa, "Drunk in Love" by Beyoncé ft Jay-Z, "Tapout" ft. Lil Wayne and Nicki Minaj and many more.
The song has created a media frenzy since it's release on Christmas day and quickly broke 100,000 plays on soundcloud and has been featured on every major music blog. The official link that French Montana has been sharing on his social media is https://soundcloud.com/dropthevibe/beyonce-711-feat-french-montana-detail-christmas-version
For more information contact Domenick Nati at DNatiCelebs.com.
About Detail
Noel Fisher, professionally known as Detail, is an American music producer and recording artist from Detroit, Michigan. In late 2005, he began to gain recognition in the music industry as a producer, after teaming up with American R&B singer Ray J, to produce the bulk of his third album Raydiation. Since then he continued to produce tracks for Ray J, and expanded his catalog by working with other prominent artists such as Akon, Bone Thugs-n-Harmony, the Pussycat Dolls, Lady Gaga, Marques Houston, Brandy, Shorty Mack, Snoop Dogg, R. Kelly, Christina Aguilera, T-Pain, Lil Wayne, Beyoncé, Jennifer Lopez and Ashanti.
Detail co-wrote and produced Lil Wayne's hit single "How to Love", for Wayne's 2011 album Tha Carter IV. The single was certified 4× Platinum by the Recording Industry Association of America (RIAA) and Detail subsequently signed to Wayne's Young Money Entertainment, as well as Cash Money Records, as a producer. Recently, he has produced the singles "Drunk In Love" for Beyoncé, "We Dem Boyz" for Wiz Khalifa and "I Luh Ya Papi" for Jennifer Lopez.