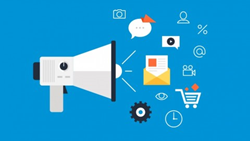 Boynton Beach, Florida (PRWEB) December 29, 2014
Propel Marketing & Design, Inc., a Boynton Beach-based Marketing Agency, is presenting a new on demand workshop titled: Social Media Strategy Made Simple for Small Businesses.
This class is designed for small businesses and entrepreneurs interested in creating an easy to execute social media strategy for their organization.
Details about the workshop can be found online at http://propelyourcompany.com/demand-workshop-social-media-strategy-made-simple-small-businesses/.
Topics covered at this workshop include:

How to set up social media business pages correctly
How to create a simple step-by-step social media strategy that will work for any business
How to identify where a company's ideal audience is interacting online and how to engage with that audience
How to stay current with the content
What time saving tools to use
How to connect the dots from social media to sales!
How to create high quality picture graphics without special software
How (and what) to measure to determine ROI (Return on Investment)
During this on demand workshop, Propel Marketing & Design will highlight some of the core elements to creating a social media plan that truly works for all types of organization. This program is ideal for any business that is just getting started with social media or currently running an active campaign.
About Propel Marketing & Design, Inc.
Propel Marketing & Design, Inc. is a full-service internet marketing agency, located in Boynton Beach, Florida, that specializes in SEO (Search Engine Optimization), social media, website design, email campaigns, search engine marketing, public relations, graphic design, and marketing workshops. Propel works with clients to create effective and unique marketing strategies to help raise their online profile and support their business objectives. For more information, please visit http://www.propelyourcompany.com.
Contact:
Propel Marketing & Design, Inc.
(800) 943-2346
533 E. Ocean Ave.
Suite #2
Boynton Beach, Florida 33435