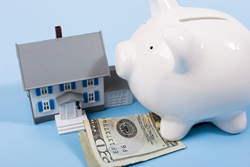 One may also offer to pay interest to their parents at a rate higher than what the banks are offering on CD's.
Chicago, IL (PRWEB) December 28, 2014
Peoples Home Equity, a Midwest based lender, knows that many of America's youth are eager to stop paying rent and purchase their first time. However, prospects are finding it difficult to save for a down payment precisely due to the burden of student loan debt, credit card debt, and rental living expenses.
The following are a number of helpful and perhaps, unusual tips that Peoples Home Equity has compiled save for a down payment.
Borrow from Parents: This may sound like the easy way out. However, borrowing from parents is a fast, easy way to obtain down payment funds. Parents can be reassured they will be with the costs savings between paying rent and paying for a mortgage. One may also offer to pay interest to their parents at a rate higher than what the banks are offering on CDs.
Start a Saving Plans: One should calculate their weekly expenses and see how much discretionary income they have. This will quickly show how much of the left over money has been spent on needless items in the past. A savings plan is critical to building a nice down payment. A simple save of $100/week will add up to $5,200. This amount of money is often enough to put down for properties listed with 3%-3% down payment options.
Sell Higher Priced Items: Younger individuals often purchase a car before a home. One reason is because cars are less expensive; the other is that cars are desirable items. If possible, consider selling the car, especially if one is moving to a metropolitan area where one is not needed. If there is an expensive piece of furniture or decorative item in the rented unit that one really does not need, they may sell it to add towards their down payment.
Ask The Employer For Help: Instead of asking for a raise, ask the employer if they can do a cash advance for and garnish wages from ones check until the advance is repaid.
Save the Tax Refund: Many individuals look forward to paying their fiscal year taxes because chances are their employer withheld more than enough income from their checks and a tax refund check will be issued from the government Many young American's spend this tax refund on items or vacations as discretionary income. However, instead of spending one's tax refund, it should be saved.
Peoples Home Equity expects many first-time home buyer applicants in 2015. If one has saved enough for a down payment, consider speaking to a PHE loan officer today at: 262-563-4026