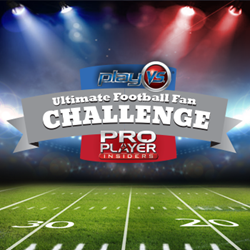 While football players battle it out on the gridiron, Pro Player Insiders challenges fans to compete throughout the playoffs to determine the Ultimate Fan.
Rochester, NY (PRWEB) December 29, 2014
Pro Player Insiders and playVS. are teaming up to offer football fans the opportunity to compete against each other in the Ultimate Football Fan Challenge. While the professional football players are battling it out on the gridiron, their fans will be playing mobile games and trivia challenges in the quest to be the Ultimate Fan.
Along with the championship title and the thrill of competition, members of the ultimate fan team will win great prizes like team merchandise, gift cards, Play Stations, Grind Hard Energy Drink, After Glow Headsets, access to VIP events and maybe even interview a player from their favorite team.
To compete, football fans need to download the free playVS. iOS app, join the Pro Player Insiders Ultimate Fan Challenge, and play games to compete with their rivals to earn points.
"Partnering with playVS. is an exciting way to engage with our audience and share our brand with other sports fans," said Melissa Mahler, Founder and CEO of Pro Player Insiders. "We worked with playVS. to create a host of fun mini-games including Football Rush, Flick Kick, and Pro Player Insiders Trivia."
"The app allows pro football fans to "suit-up" for their teams, play for their team allegiances, challenge their rivals, and boast their victories," said Josh Weinstein, Co-Founder and CMO of playVS. "Pro Player Insiders' strong relationships with football fans and players creates the perfect synergy with our platform."
The challenge kicks off December 29th and continues for five weeks. The competition starts with 32 teams and each week only half of the fan teams will continue on to the next round. On Sunday, February 1, one team will be crowned the Ultimate Fans.
Ultimate Football Fan Challenge Schedule
Round of 32 teams (Dec 29 - Jan 4): 16 teams eliminated
Round of 16 teams (Jan 5 - Jan 11): 8 teams eliminated
Round of 8 Teams (Jan 12 - Jan 18): 4 teams eliminated
Round of 4 Teams (Jan 19 - Jan 25): 2 teams eliminated
Championship Round (Jan 26 - Feb 1): 1 team eliminated
Each week the leading fan teams will have their stats shared on Pro Player Insiders, in social media and in the playVS app.
About Pro Player Insiders
Pro Player Insiders offers a peek into player's personal lives and what matters to them, on and off the football field with news, analysis, interviews, coverage of events, games and featured contributions from current and former NFL players and their families. Pro Player Insiders bring fans exclusive access directly to the players and special events. Visit http://www.proplayerinsiders.com for more information.
About playVS.
playVS. is a mobile, social gaming marketing app that allows fans to join forces and compete against rivals. The platform launched on iOS in Q2, 2014, with expansion to Android planned for Q1, 2015. Three primary playVS. features provide users with engagement, community and incentives. playVS. has a focused brand positioning on owning rivalry, offering an innovative user experience that engages players in a social community well beyond a game by linking the digital world and real world activities. Visit http://www.goplayvs.com for more information.