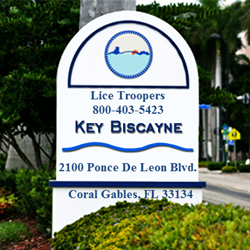 Key Biscayne Welcomes Premier All-Natural Lice Removal Service
Miami, FL (PRWEB) December 31, 2014
January marks the grand opening of the newest Lice Troopers treatment center. Located in the Coral Gables area, the child-friendly salon clinic will provide a convenient location for families living in Key Biscayne as well as Sunset, Brickell, Coconut Grove, Kendall, Pinecrest and South Miami.
The newest clinic location, opening January 1, 2015, is located at 2100 Ponce De Leon Blvd, Coral Gables FL 33134. As the demand for chemical-free, all-natural lice removal services only increases, the company saw the expansion as the next logical step. With the first clinic, located at 1005 Kane Concourse, Suite 212, Bay Harbor Islands, FL 33154, off and running, it was time to open a new location to better serve the area.
Said owner and operator Arie Harel, "Coral Gables and the surrounding area was definitely the right choice for our second clinic. Lice affect so many children that we plan to continue expanding to meet the need. We're committed to providing an all-natural option that really takes the hassle out of dealing with an infestation. And of course we'll continue to provide screening and treatment services by house call as well."
Each year between six and twelve million individuals will suffer an infestation. Lice spread easily among children, is highly contagious and does not go away unless treated. Naturally parents want a solution that is not only effective, but safe for their children and the environment. The all-natural solution provided by Lice Troopers has been a dream come true for thousands of families.
To celebrate the Grand Opening of the new treatment center, Lice Troopers will be offering a promotion: free head lice screenings. Families can receive free screenings January 4-7, every day from 10:00am to 2:00pm, on a first come, first served basis.
Lice Troopers is the all-natural, guaranteed Head Lice Removal Service™ that manually removes the head lice parasite safely and discreetly in two child-friendly salon settings, or other chosen location. Providing safe solutions for frantic families, the Lice Troopers team has successfully treated thousands of families nationwide, with services widely recommended by pediatricians and reimbursed by many major health insurance carriers, flexible spending accounts and health savings accounts.
For more information, contact:
Jennie Harel, President
licetroopers(at)gmail(dot)com
800.403.5423